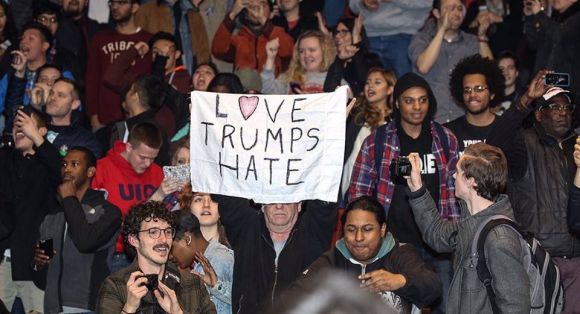 LOVE TRUMPS HATE
Workshops, protests and resistance to hate.

Food Not Bombs groups are helping resist the racists, misogynistic, and homophobic hate expressed by Trump. We are ready to help defend the environment, resist assault on civil liberties, plans for more war, cuts in social services and support those threatened with deportation.
Many people that have little experience in protest are taking to the streets. Food Not Bombs volunteers are organize workshops to help those new to protest learn and practice the basic skills need to organize effective protests. Food Not Bombs workshops include information on how to promote actions, unite coalitions, what can happen if you are arrested and how to organize legal support. These workshops will help you plan and participation in acts of nonviolent direct action. Many of the skilled needed for successful organizing can be found in our book Hungry For Peace. Check with your local Food Not Bombs group to find workshops on protesting Trump's campaign of hate.
LOCATE YOUR LOCAL FOOD NOT BOMBS GROUP HERE
HUNGRY FOR PEACE - How you can help end poverty and war with Food Not Bombs
Disrupt the Trump Inauguration

Food Not Bombs groups are organizing support for the protests during the Trump Inauguration on Friday, January 20, 2017. If you can not travel to Washington D.C. you might want to provide vegan meals and logistical support at a protest in your community.
Connect with the Food Not Bombs kitchen in Washington DC email Bryan at bryanallenmoore@gmail.com
Disrupt the Trump Inauguration
WATER IS LIFE

Help resist the rush to climate destruction. Join the Food Not Bombs Kitchen at the Rosebud Camp at Standing Rock

The Dakota Access Pipeline (DAPL) is owned by Energy Transfer Partners of Houston, Texas. The DAPL, also known as the Bakken Pipeline, is proposed to transport 450,000 barrels of crude oil per day (which is fracked and highly volatile) from the Bakken fields of North Dakota to Patoka, Illinois. Dakota Access has failed to consult with tribes and conduct a full Environmental Impact Statement (EIS). Construction has already damage burial grounds and could poison the sacred Missouri River and aquifer.

Federal government reports show that there have been more than 8,700 significant incidents with U.S. pipelines involving death, injury, and economic and environmental damage since 1986—more than 300 per year.

The Dakota Access Pipeline is one more assault on our climate, water and life. Please join us.

Call Food Not Bombs at 575-770-3377 for more details.
START A LOCAL FOOD NOT BOMBS GROUP

One of the best things you can do is to start a local Food Not Bombs group and share vegan meals and literature in the most visible locatation you can find in your community.

SEVEN STEPS TO STARTING A LOCAL FOOD NOT BOMBS GROUP
---