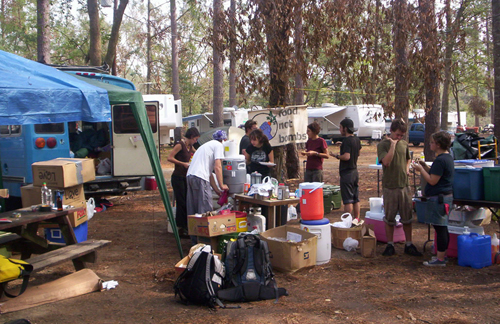 OCTOBER 6TH OCCUPATION ATTEMPT OF SEABROOK NUCLEAR POWER STATION
The people that started Food Not Bombs had their lives changed when they participated in the October 6, 1970 Occupation Attempt of the Seabrook Nuclear Power Station.
THE OCTOBER 6TH OCCUPATION ATTEMPT OF SEABROOK HANDBOOK
California Food Not Bombs Gathering
November 10 - 12, 2018
Omni Commons
4799 Shattuck Ave, Oakland, CA 94609 USA
Possible topics could include:
Resisting AB- 2178 Limited Service Charitable Feeding Operation
Our response to mental health issues, addiction and poor access to healthcare
Resisting the criminalization of the homeless Addressing sexual harassment at Food Not Bombs
Food Not Bombs builds (and can improve) solidarity with indigenous/anti racist/QPOC movements (i.e. Diné resistance, BLM- Black Lives Matter, undocumented immigrant groups, AF3IRM...).
Relief efforts after Earthquakes, fires and floods Recruiting more volunteers and retaining them
Why we share in the most visible public spaces State-wide coordinated strategies for change Improving intergroup communications
The 40th anniversary celebration of Food Not Bombs in 2020
What would you like to see discussed during a Food Not Bombs Gathering?

FLORENCE AND TYPHOON MANGKU RELIEF
Help Food Not Bombs feed the survivors of Florence and Typhoon Mangkhu.
FLORENCE AND TYPHOON MANGKU RELIEF
POOR PEOPLES CAMPAIGN
All Food Not Bombs Groups in the United States are invited to participate
The Poor People's Campaign: A National Call for Moral Revival is uniting tens of thousands of people across the country to challenge the evils of systemic racism, poverty, the war economy, ecological devastation and the nation's distorted morality. We need you to step up and join our efforts.
POOR PEOPLES CAMPAIGN 2018
LOVE TRUMPS HATE
Workshops, protests and resistance to hate.
Food Not Bombs groups are helping resist the racists, misogynistic, and homophobic hate expressed by Trump. We are ready to help defend the environment, resist assault on civil liberties, plans for more war, cuts in social services and support those threatened with deportation.
Many people that have little experience in protest are taking to the streets. Food Not Bombs volunteers are organize workshops to help those new to protest learn and practice the basic skills need to organize effective protests. Food Not Bombs workshops include information on how to promote actions, unite coalitions, what can happen if you are arrested and how to organize legal support. These workshops will help you plan and participation in acts of nonviolent direct action. Many of the skilled needed for successful organizing can be found in our book Hungry For Peace. Check with your local Food Not Bombs group to find workshops on protesting Trump's campaign of hate.
LOCATE YOUR LOCAL FOOD NOT BOMBS GROUP HERE
HUNGRY FOR PEACE - How you can help end poverty and war with Food Not Bombs
Affinity Group Formation
Forming affinity groups is an important first step in resisting fascism. An affinity group is simply a voluntary group formed around a common goal or interest. Such groups typically have five to ten participants who know one another and meet at least once a month, sometimes as much as several times a week. An affinity group provides a space for discussing tactics, strategies, and specific actions. It also provides a place to work cooperatively on projects. Importantly, it also serves as a means of mutual support and validation, a means of overcoming the crushing isolation that keeps people alone, disempowered, and hopeless; it can provide inspiration and stir the imagination in these dark times.
Who Will Stand Up to Donald Trump? We Will!
START A LOCAL FOOD NOT BOMBS GROUP
One of the best things you can do is to start a local Food Not Bombs group and share vegan meals and literature in the most visible locatation you can find in your community.
SEVEN STEPS TO STARTING A LOCAL FOOD NOT BOMBS GROUP
---