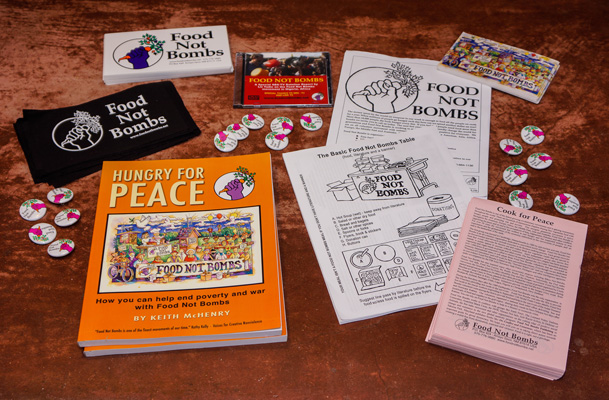 FOOD NOT BOMBS MATERIALS
You can find all the Food Not Bombs materials, DVDs, prints, stickers, t-shirts, ornaments, and other materials you need to help you start a Food Not Bombs group or to give as a gift to your friends and family.
**Lots of new shirts and other stuff coming soon from the Autonomous Playhouse, the Food Not Bombs puppet collective - stay tuned!**
We provide these Food Not Bombs materials to help you in your work for peace. You can get these materials to give as gifts, show your support for the ideas of Food Not Bombs by wearing our t-shirts, buttons and patches or to help you start a local group. Our book gives you all the information you need to start a Food Not Bombs chapter. If you already volunteer with Food Not Bombs you can buy these items to sell at your events and at peace rallys. All the proceeds of these materials provide funding for the Food Not Bombs movement.
Food Not Bombs is a nonviolent all-volunteer network that provides free, hot vegetarian meals and political support to low income people in hundreds of communities in the Americas, Africa, Asia, the Middle East, Europe and Australia. Food Not Bombs is empowering, rewarding and FUN! Show your support. Wear a t-shirt, button or patch. Give your family and friends a clay peace ornament. Read our book and start a Food Not Bombs group in your community.
Our helpful 184 page Food Not Bombs handbook HUNGRY FOR PEACE - How you can help end poverty and war with Food Not Bombs with over 100 photos and illustrations, vegan recipes to provide meals for groups of 100 and families of 6 people, the 30 year history of the movement and logistics on how to start a local group, organize meetings, tours, gatherings and sucsessful campaigns of nonviolent direct action. This 8 1/2 by 11 inch book also includes flyers you can reprint, the time line of major events in the history of the movement and many other useful detalis to help change society. This book will help you and your friends do your part to participate in the global uprising. If you can"t start a group yourself give a copy to some one you think would.
START A FOOD NOT BOMBS GROUP TODAY!
Click here to read The Seven Steps To Starting a Food Not Bombs Group
How Would You Like to Order?
CLICK HERE FOR MORE BOOKS AND MERCHANDISE RELATED TO FOOD NOT BOMBS
Please visit PEACE SUPPLIES
and find more great t-shirts, buttons, stickers and other peace items for your literature table.
THE OLD FOOD NOT BOMBS HANDBOOK IN OTHER LANGUAGES

| Food Not Bombs Handbook (English) ]
[ De la Bouffe, pas des Bombes (French) | Comida, no Bombas(Spanish) | Food Not Bombs, (Italian) |
---

Food Not Bombs
P.O. Box 424, Arroyo Seco, NM USA
575-770-3377
1-800-884-1136
menu@foodnotbombs.net
www.foodnotbombs.net
| Start a Food Not Bombs | Main Menu | Food Not Bombs Contacts | Donate A Dollar For Peace |