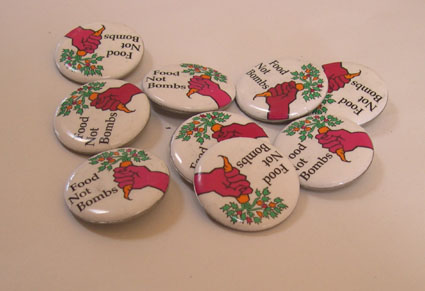 Food Not Bombs Button
Wear a Food Not Bombs Button and show everyone you support peace
These Food Not Bombs buttons were designed by Keith McHenry in 1980. We have sold over 70,000 of these four color buttons since 1980. This button won the 1982 World Peace Button Award. These prices include shipping in the United States. Add $5 for orders outside the U.S.
Price List (including shipping and handling in the United States)
Regular
FNB
wholesale*
Food Not Bombs Buttons
$1.00
$.50 cents
*Special prices for Food Not Bombs Groups and retail stores.
How Would You Like to Order?
---

Food Not Bombs
P.O. Box 424, Arroyo Seco, NM USA
505-776-3880
1-800-884-1136
menu@foodnotbombs.net
www.foodnotbombs.net
| Start a Food Not Bombs | Main Menu | Food Not Bombs Contacts | Donate A Dollar For Peace |