California Gatherings Guidance under COVID-19
Those who live outside and in poverty need food more now then ever. Please read the gathering guidelines above. These suggestions are just the basic things to be done to protect everyone while providing health meals as of this point in the crisis and could change.
Wash your Hands for at leasttwenty seconds and use gloves. Provide disinfectant and a way for everyone who comes to eat to wash their hands.
Consider Inviting public health nurses to meals. Ask them to bring PPE goggles or face masks, paper gowns and N95 masks. If they are not able to provide those buy them for all of your volunteers.
We are considering buying a laser thermometer to take the temperature of each person attending our meal if they wish and if they meet the criteria if they show an increase in temperature suggest they take one of our masks and seek medial help. Your group may wish to ask your local health official to show your volunteers on how to take off the paper gowns and other equipment. Ask them to bring a flyer on the symptoms of COVID-19 and where people can get Treatment that we can share that would also be helpful.
On our first meal since COVID- 19 emergency our volunteers had masks and gloves, held the person's plate and walked down the line of food asking what they wanted and spooned their preference onto their plate. One person was statined at the tea and water jugs and handed each person with the drink they wanted. We provided a foot pumped hand washing station. When handing out clothing we had the perosn who brought the items hand it to each person so people were not going through a pile of donations.
You can also ask that people you are feeding to sit in small groups and have your volunteers deliver the meals to them. Plan to have your prep area designed in such a way as to have each person will be at least 6 feet from one another. Give an orientation to all your volunteers before we start to cook.


PLEASE DONATE TODAY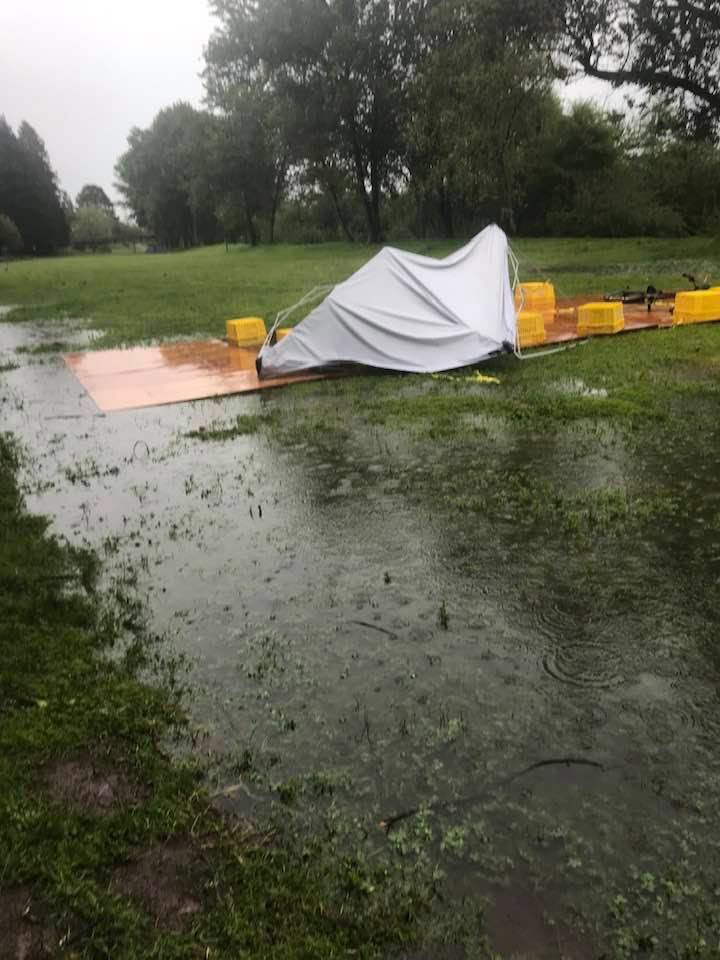 The location that the city of Santa Cruz Forced us to share our meals
HERE ARE SOME PHOTOS OF OUR SOCIAL DISTANCING LINES FOR FOOD AND HOTEL VOUCHERS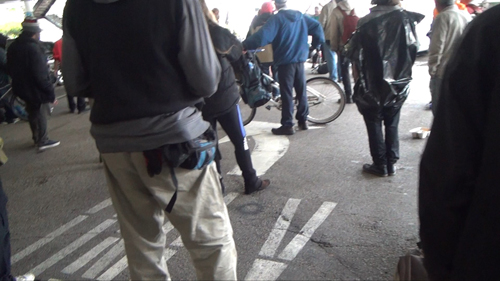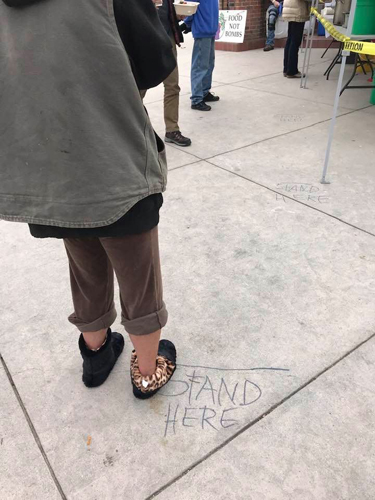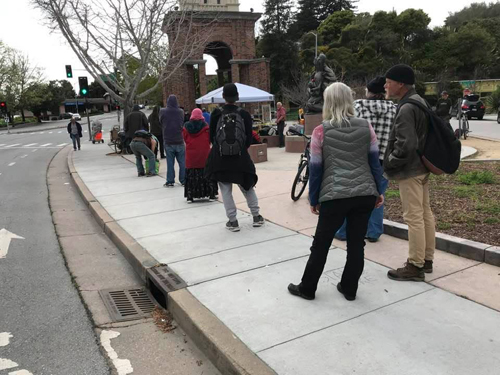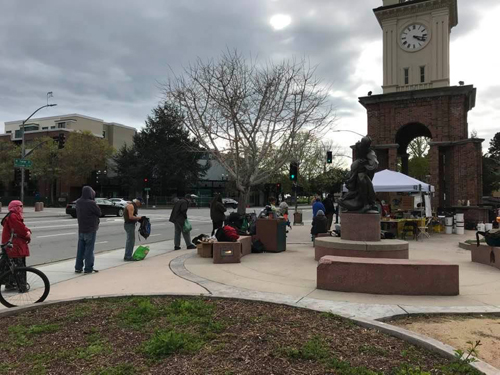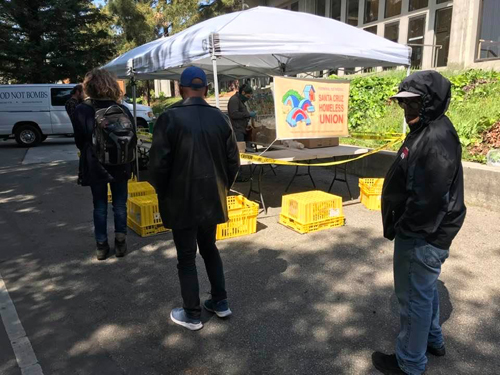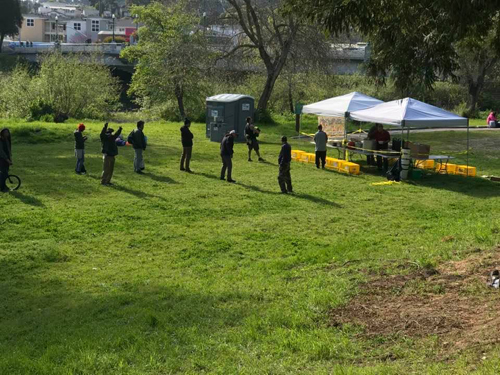 FOOD NOT BOMBS SOUPSTOCK 2020 GLOBAL FESTIVAL
Celebrating 40 years of sharing vegan meals
and working for social justice
Sunday, May 24, 2020



OUR 40 YEAR HISTORY The all volunteer Food Not Bombs movement shares food in nearly 1,000 communities in at least 65 countries. Food Not Bombs was formed by eight young anti-nuclear activist at the May 24, 1980, Occupation Attempt of the Seabrook Nuclear Power Station. Food Not Bombs is dedicated sharing vegan food and does not serve meat or other animal products as a way to avoid complicity with the exploitation of the workers and the cruel and violent conditions of the animal agriculture industry and to reduce our impact on the climate crisis.

Food Not Bombs has provided food and material relief to the survivors of the Loma Prieta Earthquake in San Francisco and Northridge Earthquake in San Fernando Valley, Hurricanes Katrina and Sandy as well as Typhoon Yolanda, the Christmas Tsunami, the 2019 floods in Thaton, Myanmar and many other disasters during its 40-year history.

The volunteers of Food Not Bombs have been recognized as Prisoners of Conscience by Amnesty International, who called for their unconditional release if arrested for sharing food with the hungry.

Food Not Bombs fed thousands of activists at Reagan Ranch in Boston, the June 12, 1982 March for Nuclear Disarmament in New York City, The Nevada Desert Experience at the Nevada Nuclear Weapons Test Site, the 27-day Tent City protest in San Francisco in 1989, Redwood Summer in Northern California, The West Bank Peace Camp at Mas'ha Palestine, Camp Casey in Crawford, Texas, Occupy Wall Street, protests against Exercise Talisman Saber in Australia, a 600-day farmer's occupation in Bosnia and Herzegovina Square in Sarajevo, World Trade Organization (WTO) protests in Seattle, Genoa, and Cancun, the 100-day Orange Revolution occupation in Kiev, Ukraine, the 2001 Meeting of the European Council in Gothenburg, Sweden and hundreds of other protests.

Food Not Bombs activist initiated Bikes Not Bombs, Food Not Lawns, Homes Not Jails, Indymedia, Really Really Free Markets, October 22nd No Police Brutality Day, the Free Radio movement and many other DIY initiatives. The 40th anniversary celebration intends to inspire the public to join us in our work to end hate, war, poverty and the destruction of the environment.

Food Not Bombs PO Box 422 Santa Cruz, CA 95061 USA 1-800-884-1136 menu@foodnotbombs.net
---