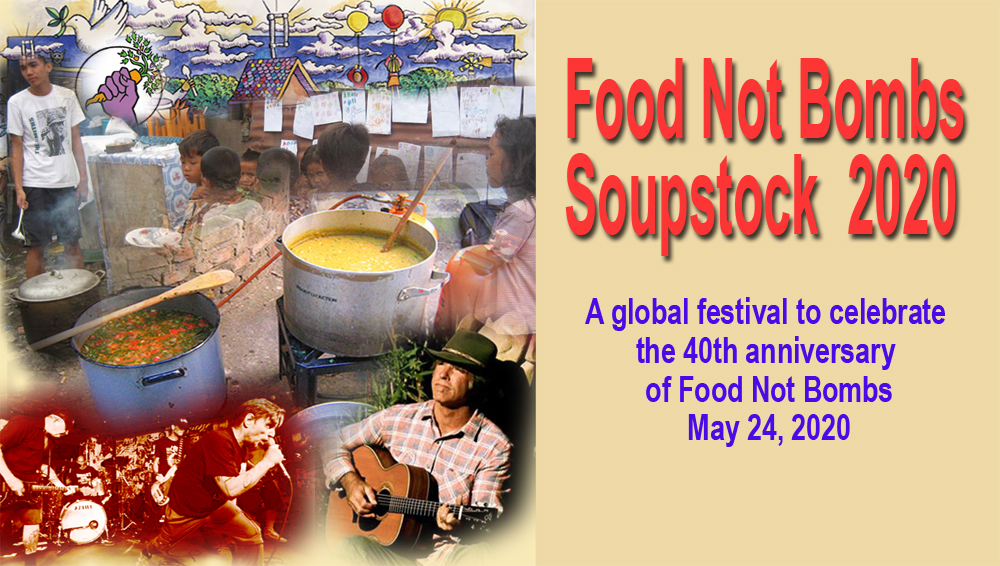 FOOD NOT BOMBS SOUPSTOCK 2020 GLOBAL FESTIVAL
Celebrating 40 years of sharing vegan meals
and working for social justice
Sunday, May 24, 2020

Food Not Bombs chapters will be holding free festivals in communities all over the world to commemorate four decades of sharing vegan meals with the hungry and providing food and logistical support for protests and relief efforts. The festivals will feature live music, poetry, free vegan meals, art and information booths, a really really free market, puppet shows and other fun children's activities. The festivals will also have a live feed from many of the festivals going 24 hours, passing off the baton from city to city, and continent to continent across the globe and like a telethon, we will offer viewers many opportunities to support Food Not Bombs.

The all volunteer Food Not Bombs movement shares food in nearly 1,000 communities in at least 65 countries. Food Not Bombs was formed by eight young anti-nuclear activist at the May 24, 1980, Occupation Attempt of the Seabrook Nuclear Power Station. Food Not Bombs is dedicated sharing vegan food and does not serve meat or other animal products as a way to avoid complicity with the exploitation of the workers and the cruel and violent conditions of the animal agriculture industry and to reduce our impact on the climate crisis.

Food Not Bombs has provided food and material relief to the survivors of the Loma Prieta Earthquake in San Francisco and Northridge Earthquake in San Fernando Valley, Hurricanes Katrina and Sandy as well as Typhoon Yolanda, the Christmas Tsunami, the 2019 floods in Thaton, Myanmar and many other disasters during its 40-year history.

The volunteers of Food Not Bombs have been recognized as Prisoners of Conscience by Amnesty International, who called for their unconditional release if arrested for sharing food with the hungry.

Food Not Bombs fed thousands of activists at Reagan Ranch in Boston, the June 12, 1982 March for Nuclear Disarmament in New York City, The Nevada Desert Experience at the Nevada Nuclear Weapons Test Site, the 27-day Tent City protest in San Francisco in 1989, Redwood Summer in Northern California, The West Bank Peace Camp at Mas'ha Palestine, Camp Casey in Crawford, Texas, Occupy Wall Street, protests against Exercise Talisman Saber in Australia, a 600-day farmer's occupation in Bosnia and Herzegovina Square in Sarajevo, World Trade Organization (WTO) protests in Seattle, Genoa, and Cancun, the 100-day Orange Revolution occupation in Kiev, Ukraine, the 2001 Meeting of the European Council in Gothenburg, Sweden and hundreds of other protests.

Food Not Bombs activist initiated Bikes Not Bombs, Food Not Lawns, Homes Not Jails, Indymedia, Really Really Free Markets, October 22nd No Police Brutality Day, the Free Radio movement and many other DIY initiatives. The 40th anniversary celebration intends to inspire the public to join us in our work to end hate, war, poverty and the destruction of the environment.

Food Not Bombs PO Box 422 Santa Cruz, CA 95061 USA 1-800-884-1136 menu@foodnotbombs.net
POOR PEOPLES CAMPAIGN
All Food Not Bombs Groups in the United States are invited to participate
The Poor People's Campaign: A National Call for Moral Revival is uniting tens of thousands of people across the country to challenge the evils of systemic racism, poverty, the war economy, ecological devastation and the nation's distorted morality. We need you to step up and join our efforts.
POOR PEOPLES CAMPAIGN 2018
LOVE TRUMPS HATE
Workshops, protests and resistance to hate.
Food Not Bombs groups are helping resist the racists, misogynistic, and homophobic hate expressed by Trump. We are ready to help defend the environment, resist assault on civil liberties, plans for more war, cuts in social services and support those threatened with deportation.
Many people that have little experience in protest are taking to the streets. Food Not Bombs volunteers are organize workshops to help those new to protest learn and practice the basic skills need to organize effective protests. Food Not Bombs workshops include information on how to promote actions, unite coalitions, what can happen if you are arrested and how to organize legal support. These workshops will help you plan and participation in acts of nonviolent direct action. Many of the skilled needed for successful organizing can be found in our book Hungry For Peace. Check with your local Food Not Bombs group to find workshops on protesting Trump's campaign of hate.
LOCATE YOUR LOCAL FOOD NOT BOMBS GROUP HERE
HUNGRY FOR PEACE - How you can help end poverty and war with Food Not Bombs
Affinity Group Formation
Forming affinity groups is an important first step in resisting fascism. An affinity group is simply a voluntary group formed around a common goal or interest. Such groups typically have five to ten participants who know one another and meet at least once a month, sometimes as much as several times a week. An affinity group provides a space for discussing tactics, strategies, and specific actions. It also provides a place to work cooperatively on projects. Importantly, it also serves as a means of mutual support and validation, a means of overcoming the crushing isolation that keeps people alone, disempowered, and hopeless; it can provide inspiration and stir the imagination in these dark times.
Who Will Stand Up to Donald Trump? We Will!
START A LOCAL FOOD NOT BOMBS GROUP
One of the best things you can do is to start a local Food Not Bombs group and share vegan meals and literature in the most visible locatation you can find in your community.
SEVEN STEPS TO STARTING A LOCAL FOOD NOT BOMBS GROUP
---