FBI Raids, Infiltration and Disruption of the Food Not Bombs movement.
These updates made on October 3, 2008
COOKS NOT TERRORISTS
Day of Action for the Right to Share Food and Work for Peace





POLICE RAID FOOD NOT BOMBS HOUSES AND OFFICE
Volunteers with the global nonviolent movement Food Not Bombs and RNC Welcoming Committee charged under the Patriot Act alleging acts of terrorism.



The FBI and other security forces are waging a national campaign against Food Not Bombs. Even though Food Not Bombs is dedicated to nonviolent social change our movement has been listed as a terrorist group by U.S. federal authorities. Volunteers arrested during raid of the Minnesota Food Not Bombs houses in the Twin Cities have been charged with "Conspiracy to Riot in Furtherance of Terrorism." In California the East Bay Food Not Bombs office at Long Haul was raided and 13 computers were taken. Elle Magazine reports that the Sacremento California office of the FBI paid a college student $75,000 to disrupt Food Not Bombs. The FBI provided her with blasting caps, plans to build a bombs and a car and house wired to record audio and video. As many as 20 volunteers are in U.S. prison accused of terrorism. The FBI claims they have infiltrated our movement disrupting our work to feed the hungry and work for peace. Consider contacting the House and Senate Homeland Security Committees and request an investigation into the U.S. government's national campaign to stop Food Not Bombs.



Please contact the U.S. House of Representatives Committee on Homeland Security by calling (202) 226-2616 and the Senate Committee on Homeland Security and Governmental Affairs committee member Barack Obama at (202) 224-2854 or (312) 886-3506 Also please call St. Paul Mayor Chris Coleman 651-266-8510 and Minneapolis Mayor RT Rybak (612) 673-2100.





Hi Keith and all,

I thought you all would be interested to know that Veterans for Peace and Iraq Veterans Against the War conducted a Solemn Funeral March in Minneapolis on Sunday from about 11:30 to 1:30 or so. When we completed the march at the foot of the state capitol, there was the local Food Not Bombs team with a most welcome table of sandwiches and fruit salad set up for us.

Ken

Kenneth E. Mayers
Veterans for Peace - Santa Fe
Sow justice, reap peace!

The FBI and local police made preemptive arrests of peace activists, raiding Food Not Bombs homes before the Republican National Convention. The eight volunteers being charged with "Conspiracy to Riot in Furtherance of Terrorism" have participated in a number of nonviolent actions to stop the wars in Iraq and Afghanistan where the U.S. military has killed tens of thousands of civilians. They also volunteer with groups like Food Not Bombs providing food and relief for hungry. People that know the prisoners charged with "Conspiracy to Riot in Furtherance of Terrorism" are dedicated to nonviolence and have never been involved in violence. Law enforcement officials have not provided the names of any one that has been a victim of violence by anyone from the RNC Welcoming Committee or Food Not Bombs.

According several news reports including ABCs KAAL TV News in Minnesota authorities told reporters that U.S. intelligence units had infiltrated the RNC Welcoming Committee and Food Not Bombs for months "to see how they (the protesters) think." Police infiltrators have failed in their attempts to encourage violence by protesters at the Republican National Convention.

In what appears to be the first use of criminal charges under the 2002 Minnesota version of the Federal Patriot Act, Ramsey County Prosecutors have formally charged 8 alleged leaders of the RNC Welcoming Committee and Food Not Bombs with Conspiracy to Riot in Furtherance of Terrorism. Monica Bicking, Eryn Trimmer, Luce Guillen Givins, Erik Oseland, Nathanael Secor, Robert Czernik, Garrett Fitzgerald, and Max Spector, face up to 7 1/2 years in prison under the terrorism enhancement charge which allows for a 50% increase in the maximum penalty.

Affidavits released by law enforcement which were filed in support of the search warrants used in raids, and used to support probable cause for the arrest warrants, are based on paid, confidential informants who infiltrated the RNCWC on behalf of the FBI. They allege that members of the group sought to kidnap delegates to the RNC, assault police officers with firebombs and explosives, and sabotage airports in St. Paul. Evidence released to date does not corroborate these allegations with physical evidence or provide any other evidence for these allegations than the claims of the informants.

"These charges are an effort to equate publicly stated plans to blockade traffic and disrupt the RNC as being the same as acts of terrorism. This both trivializes real violence and attempts to place the stated political views of the Defendants on trial," said Bruce Nestor, President of the Minnesota Chapter of the National Lawyers Guild. 'The charges represent an abuse of the criminal justice system and seek to intimidate any person organizing large scale public demonstrations potentially involving civil disobedience, he said."

Five Food Not Bombs volunteers were arrested in Minneapolis in early morning raids on Saturday August 30th and are facing charges of conspiracy to riot, conspiracy to commit civil disorder and conspiracy to damage property. The five, who are being held in the Hennepin County Jail, are Nathanael Secor, Garrett Fitzgerald, Eryn Trimmer, Monica Bicking, and Erik Oseland. Officers from the Minneapolis Police Department, the Hennepin and Ramsey county sheriff"s departments and the Federal Bureau of Investigation, armed with search warrants, executed the raids. The FBI and county sheriff's departments held the cooks face down at gun point for several hours as they video taped and photographed their cooking equipment and other belongings. Later that evening Monica Bicking, owner of the Food Not Bombs house at 2301 23rd Ave. South in Minneapolis was interrogated in her cell by Ramsey County Sheriff Bob Fletcher. She refused to talk. Eryn Trimmer reported this morning in a phone call to his mother that 50 new prisoners joined him in the county jail last night. Monica Bicking was released yesterday.

FBI claims that Food Not Bombs had weapons stored at their homes are false. Fortunately the FBI and Ramsey county sheriff's department did clean out all the old belongings left behind in the garage by the past owners saving Food Not Bombs a great deal of work. Volunteers held at gun point reported that "we aren't even painting banners here. All we have is food and cooking equipment."

The FBI, Pentagon and other agencies have been investigating and disrupting the Food Not Bombs movement since at least 1988 when volunteers were first arrested for feeding the hungry in San Francisco. That same year the San Francisco Police wiretapped Food Not Bombs co-founder Keith McHenry"s home phone. By 1997 the San Francisco Police had made over 1,000 arrests for sharing vegetarian meals. Mr. McHenry faced 25 years to life in prison even though he had written many articles and a book on nonviolent social change and has never participated in any violence and promotes vegan and vegetarian diets, animal rights and peace.

This past year Eric McDavid and Lauren Weiner were framed by the Sacramento California office of the FBI after they paid a college student $75,000 to join Food Not Bombs. Wren is starting a five year prison sentence and Eric has been sentenced to 19 years. The FBI provided their informant "Anna" with a special wired car and home. They also gave her blasting caps, a book on how to build bombs and instructed her to try and convince Eric and Wren to bomb a dam in California. Eric and Wren refused but because they failed to stop "Anna" from her plans they were convicted.

"This investigation pertains to actions of the RNC Welcoming Committee," Ramsey County Sheriff Bob Fletcher said in a statement at midday Saturday. "The Welcoming Committee is a criminal enterprise made up of 35 anarchists who are intent on committing criminal acts before and during the Republican National Convention.

Food Not Bombs has spent the last year organizing to provide free meals to protesters attending the demonstrations outside the Republican National Convention in Minnesota and the Democratic National Convention in Colorado in the United States.

Food Not Bombs is an all volunteer movement dedicated to nonviolent social change. Food Not Bombs provides free vegetarian meals every week in over 1,000 cities all over the world. Food Not Bombs volunteers provided free meals to the rescue workers at the World Trade Center after 9/11, to the protesters at the Orange Revolution in Kiev, Ukraine and fed survivors in nearly 20 communities in the gulf region of the United States in the months after Katrina. From Iceland to Chile, Nigeria, New Zealand, Israel and beyond, thousands of Food Not Bombs volunteers will be sharing vegetarian meals, working for peace, planting gardens, fixing up bikes for poor children and responding to hurricanes and earthquakes. Please forward this to your local media and community groups.

CRACKDOWN IN AMERICA BEGINS
Food Not Bombs homes and offices raided. Volunteers arrested. Food Not Bombs volunteers start organizing to feed the survivors of the hurricanes.

As the all volunteer movement Food Not Bombs prepares to respond to Hurricane Ike the police and FBI raid several Food Not Bombs houses in Minneapolis and a office in Berkeley where police seized 13 computers.

While attending the protests at the DNC Zachary Patrick Grey, a University of Massachusetts student from Marion, Mass., was arrested at 1:40 p.m. Monday. Police claimed he had a jar of feces. According to CBS 3 of Springfield, Mass., Grey belongs to a group called Pioneer Valley Food Not Bombs. The alleged feces was glass jar of coffee with soy milk. About a dozen large Denver police dressed as "anarchists" in new black bandanas and black t-shirts provoked an attack by riot police in Civic Center Park. The plain clothes officers were seen returning to white police vans after their provocation. One officer had a back page of rocks. Zachary is out on bail waiting trial.

Several of those who were arrested are being represented by Bruce Nestor, the President of the Minnesota chapter of the National Lawyers' Guild. Nestor said that last night's raid involved a meeting of a group calling itself the "RNC Welcoming Committee", and that this morning's raids appeared to target members of "Food Not Bombs," which he described as an anti-war, anti-authoritarian protest group. There was not a single act of violence or illegality that has taken place, Nestor said. Instead, the raids were purely anticipatory in nature, and clearly designed to frighten people contemplating taking part in any unauthorized protests. Nestor indicated that only 2 or 3 of the 50 individuals who were handcuffed this morning at the 2 houses were actually arrested and charged with a crime, and the crime they were charged with is "conspiracy to commit riot." Four of those under arrest include Monica Bicking, Eryn Trimmer, Garrett Fitzgerald, Nathanael Secor. Emails asking the public to call St. Paul Mayor Chris Coleman 651-266-8510 and Minneapolis Mayor RT Rybak (612) 673-2100 have been sent out to call for their freedom. Efforts to get have the 13 computers returned in Berkeley are also underway. The authorities have claimed activists have been planning to use urine and feces at both conventions.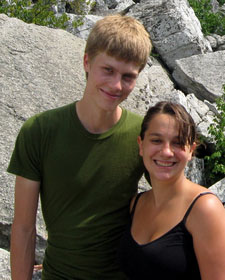 Eryn Trimmer and Monica Bicking

The Blog of Monica Bicking's Brother Ian
Saturday morning my sister, Monica Bicking, and her boyfriend, Eryn Trimmer, were arrested in Minneapolis. Monica was released on Sunday, but Eryn and others are still in custody, and the police will try to keep them detained as long as possible. update: Monica has been taken back into custody, and it seems that the two of them and six others from the Welcoming Committee will be charged with felonies, perhaps including "furtherance of terrorism".

ABCs KAAL TV News in Minnesota authorities told reporters that U.S. intelligence units had infiltrated

YES Local police, the FBI and Pentagon claim that Food Not Bombs is a Terrorist Group. No Joke!

UCPD and Feds Raid Long Haul

Crackdown Begins: Food Not Bombs House Among Saturday Raids Ahead of RNC

Police Sweeps in MN at the RNC - A Consistent Pattern of Repression Against Mass Mobilizations

Crackdown Begins: Food Not Bombs House Among Saturday Raids Ahead of RNC

Police conduct raids in preparation for RNC

Massive police raids on suspected protestors in Minneapolis

DEMOCRACY NOW! St. Paul Police Conduct Mass Pre-Emptive Raids Ahead of Republican Convention

YOUTUBE videos- Massive police raids on suspected protestors in Minneapolis

HORSEFLY - Police Raid Food Not Bombs - Free Foodies Under Attack

Police: Protester arrested for dropping bottle of feces

The RNC Welcoming Committee is an anarchist / anti-authoritarian organizing body preparing for the 2008 Republican National Convention in St. Paul, Minnesota.

To join us in supporting this action please email Minneapolis Food Not Bombs at mplsfoodnotbombs@riseup.net

To learn what the Republican Party has planned visit their site at www.gopconvention2008.com font>





Food Not Bombs Community Meals at the Democratic National Convention, August 24-28, 11am and 5pm



Food Not Bombs provided two public meals a day during the Democratic National Convention, one at 11am, and one around 5PM, in Lincoln Park for the first half of the week, and later in the week in Skyline Park.

Several Food Not Bombs volunteers were arrested. Denver under cover police dresses was anarchists and yelled at the riot police so the Monday march could be attacked. Likke news of the Denver police disrupting the protests made it into the media. The body building large body building cops dressed with new black t-shirts and black handkerchiefs looking just like the cops that broke the windows in Seattle in 1999. Zachery with North Hampton Food Not Bombs was arrested that evening. Police claim his jar of coffee and soy milk was a danger and booked him in the county jail. For more information email Food Not Bombs at denverfoodnotbombs@yahoo.com, or call 303-573-3896.

Donate A Dollar For Peace.If you can donate even more than a dollar please help. We have a great deal on our plate. THANKS!

Food Not Bombs could be targeted - URGENT: Help to topple S.1959, Homegrown Terrorism and Violent Radicalization Prevention

The Homegrown Terrorism Prevention Act: A Tutorial in Orwellian Newspeak



THE 2009 WORLD PEACE CONFERENCE




May 26 to 31, 2009 in Taos, New Mexico, USA



Implement a strategy for peace, social justice and sustainable future. Civil Rights lawyer Lynne Stewart and John Fair of Planning For Peace are two of the first to agree to speak at the conference. We are inviting everyone to participate in planning this important conference. Taos has over a thousands years of promoting peace, social justice and living sustainibly. We will have workshops, lectures, music, poetry, dance, art shows, films, theater and logistical planning for a campaign for peace social justice and sustainable future. As the global crisis grows this conference will be one important event to help organize for our future.



www. worldpeaceconference2009.org




---
MORE CAMPAIGNS Call 1-800-884-1136 of email us at menu@foodnotbombs.net center>

THE FOOD NOT BOMBS STARTUP KIT
Everything you need to start a local Food Not Bombs group in your community. A full color banner, on copy of the 126 page Food Not Bombs handbook, a DVD, flyers you can reprint and buttons. Everything you need to start a group.
THE FOOD NOT BOMBS HANDBOOK
This 126 page book shows you how to cook for 100 people, has detailed information about starting a Food Not Bombs group.
FLYERS AND IMAGES TO MAKE FLYERS
Flyers, graphics, logos, and photos you can use to help you start your Food Not Bombs group. Please use any of these images on posters, flyers or on your new website.
POST THIS FLYER ALL OVER TOWN
You can start a Food Not Bombs group in you community buy making copies of this flyer, add your phone number and post it all over town in cafes, bookstores, schools, and store windows.
FOOD NOT BOMBS MATERIALS
It can be helpful to raise money and awareness to have Food Not Bombs buttons, stickers and other materials on your table at events and concerts. Our office provides these materials at half price to Food Not Bombs chapters. You will attract more volunteers and support in your community when people see the Food Not Bombs image all over town.
CONTACT A FOOD NOT BOMBS GROUP NEAR YOUBefore you start a group see if one is already active in your community. If you do find a group in your town try work with them. Sometimes the contact information is old and the group has stopped so if you find this has happened then let us know and start a new chapter. You can also invite a Food Not Bombs group near your community to help you get started. When you get your group going please email us the correct contact information and the times, days and locatons of where you share food.
FOOD NOT BOMBS PRESENTATION
One great way to help start a Food Not Bombs group is to invite the co-founder Keith McHenry to speak to your community. Student activity centers at colleges and universities will provide funding for a presentation by Keith, helping with airfare and an honorarium. You can learn more about Keith and listen to his presentations here
YOUR LITERATURE AND FOOD TABLEYour Food Not Bombs group can have real impact when you include literature and a banner at every meal. If you set up your table at a location that is busy with a diversity of people at a time when lots of pedestrians walk by you will be able to attract more volunteers and discover new food sourses. You can also meet people who would have never known about the issues we are working on. Many Food Not Bombs tables are considered the place to visit for infromation, community as well as great food. This page shows you how you can have a more effective Food Not Bombs table.
---

Food Not Bombs
P.O. Box 424, Arroyo Seco, NM 87514 USA
575-776-3880
1-800-884-1136
menu@foodnotbombs. net
www.foodnotbombs.net



< center>

| Start a Food Not Bombs | Main Menu | Food Not Bombs Contacts | Donate A Dollar For Peace |