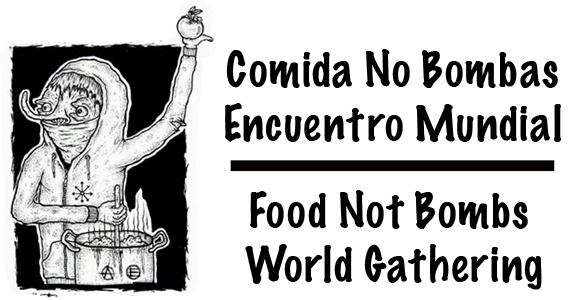 Comida No Bombas Encuentro Mundial
Food Not Bombs World Gathering
Comida, Violencia, y Solidaridad a través de las Fronteras
Food, Violence, and Solidarity Across Borders
7-11 de Octubre, 2016
October 7-11, 2016
Tijuana, BC, Mexico


Comida No Bombas Encuentro Mundial / Food Not Bombs World Gathering
Propuestas de Talleres / Workshop Proposals
Travel to the Gathering with other Food Not Bombs activist by signing up on our Ride Share Form

INFORMACION EN ESPANOL

Dos grupos de comida no bombas de ambos lados de la frontera U.s./México les escribimos para invitarlos a el encuentro mundial de comida no bombas en Tijuana, Baja California, México el fin de semana de los días 7, 8, 9 y 10 de Octubre. El objetivo? Para convocar y conectar diferentes grupos de Comida No Bombas al igual que otros colectivos similares de todas partes del mundo para compartir visiones y experiencias, colaborar como individuos y como colectivos, y compartir con el público el mensaje, como la comunidad internacional que somos, que LA COMIDA ES UN DERECHO por medio de el buen método de la acción directa. Y claro, pasarnosla bn chingon mientras hagamos todo lo mencionado :) El tema de los eventos que abarcaran este fin de semana circunda las cuestiones de "Comida, Violencia, y Solidaridad a través (y a pesar) de Las Fronteras." Esperamos ofrecer el espacio para un fin de semana de discusiones y talleres, una repartición de comida gratis continua, una creación colectiva de arte, música, acción, y un campamento comunitario. Bienvenimos, animamos, y apreciaríamos la ayuda y participación, en ambas la planeación y en el evento en sí, de todo grupo de Comida No Bombas y otros aliados, entre más grupos mejor. Queremos que tu (y/o tu colectivo) compartan con todos cómo y porqué hacen lo que hacen, y cómo podríamos proceder desde este punto como un movimiento global unificado. Un pequeño ejemplo de las preguntas por las cuales podríamos empezar nuestra colaboración incluyen:
Cómo podemos reconstruir una nueva manera de relacionarnos con la comida en una sociedad que usa el alimento para perpetuar una violencia multidimensional y global?


Como el patriarcado, el racismo, las fronteras, la cultura, y nuestras propias experiencias como individuos y colectivos se relacionan a esta violencia.


Como se ve la solidaridad cuando la violencia no es tan obvia como el hambre, pero puede existir sutilmente hasta dentro de nuestros propios colectivos?


Como ven el crecimiento del movimiento de Comida no bombas, y que pasos debemos tomar para alcanzar nuestros objetivos?


Cómo podemos aprender de las victorias (y fracasos) nuestros y de los demás, y cómo deberíamos celebrar el éxito?


El evento tomará lugar primeramente en el centro de Tijuana, centrándose en el Café A, un infoshop local con su cocina comunitaria. Logísticamente, estamos preparados para hospedar a los participantes por todo el fin de semana. Contamos con un hostal (Hostal Pangea, un lugar de cinco pisos localizado enfrente del Café A) y con una granja orgánica localizada en la entrada a Rosarito que es fácilmente accedida por transporte público y servirá como espacio de trabajo y campamento. Nosotros, los miembros de los grupos locales de Comida No Bombas, nos comprometemos a acumular fondos con intención de patrocinar a los colectivos que no cuentan con los recursos para llegar a tijuana para el evento, primeramente para los grupos de México.

Toda esto está en sus etapas preliminares de planeación, y tenemos mucho trabajo que realizar en los meses que vienen para lograr todos los objetivos. Por favor háganos saber si están disponibles para unirse de cualquier forma o capacidad! Necesitamos ayuda en la planeación (de la accesibilidad, la comida, las acciones que se realizarán, en hacer conecciones con otros grupos, y el recaudamiento de fondos) y necesitamos ayuda durante el evento en sí! Mándenos un mensaje si nos puedes ayudar a alcanzar estas metas, o para hablar sobre cualquier obstáculo que les complique la posibilidad de venir y participar, pues hay posibilidad que les podamos hechar la mano.

Entonces recuerden, durante la próxima vez que estén picando verduras con su grupo, hagan mención de este encuentro!

Encuentro mundial CNB. Tijuana. Octubre. Gente de todas partes. Granja organica. Aprendizaje. Colaboracion. Fiesta. Accion!

INFORMATION IN ENGLISH

Food Not Bombs chapters on both sides of the U.S./Mexico Border are writing to invite you to the Food Not Bombs World Gathering in Tijuana, Baja California, Mexico the weekend of October 7, 8, 9 and 10. Our objective? To convene & connect Food Not Bombs chapters & other kindred collectives from all corners of the globe to share experiences and insight, collaborate as individuals and collectives, and share with the public the message, as an international community, that FOOD IS A RIGHT through some good old-fashioned direct action. And have a blast doing it :) The theme of the events of the weekend surrounds matters of "Food, Violence, and Solidarity Across Borders." We are hoping to host a weekend of discussions and workshops, ongoing food sharing, creating collaborative art, music, action, and community campout. We would welcome & appreciate involvement, both in planning & participation, from as many chapters & allies as we can get. We want you(r collective) to share with the rest of us how you do your thing and why, and where we can go as a unified global movement from here. A small example of some questions we could work from include:
How do we reconstruct a new way of relating to food for ourselves and others in a society that uses food to perpetuate globalized, multi-layered violence?
How do patriarchy, racism, borders, culture, and our own experiences as individuals and collectives fit into that violence?
What does solidarity look like when violence is not as obvious as hunger, but can even exist within our own collectives?
What does the growth of the movement of Food Not Bombs look like, and what steps can we take to achieve that?
How do we learn from each others victories (and shortcomings), and celebrate our successes?


The event will take place primarily in downtown Tijuana, centering around Cafe A, a local infoshop and community kitchen. Logistically, we are prepared to host participants over the weekend, with a hostel (Hostel Pangea, a five story community venue) and an organic farm in Rosarito, easily accessible by public transit, that will serve as a campground and work space. Those of us organizing in the local chapters are committed to raising funds, in hopes that we can sponsor some collectives without the means to make it to Tijuana without our support, primarily those from Mexico.

All of this is in the very early stages of planning, and we have a lot of work to do in the months to come. Please let us know if you are available to join in any capacity! We need help planning (for accessibility, for food, for actions, for connections, for fund-raising) and we need help during the event itself! Message us if you can help us achieve this goal, or to talk about any barriers preventing you from coming that we may be able to help with.

So remember: next time you are chopping veggies with the crew, bring it up!

FNB World Gathering. Tijuana. October. People from everywhere. Organic farm. Learning. Sharing. Party. Action.

Call 1-800-884-1136

Comida No Bombas Encuentro Mundial / Food Not Bombs World Gathering
Propuestas de Talleres / Workshop Proposals
Travel to the Gathering with other Food Not Bombs activist by signing up on our Ride Share Form

---