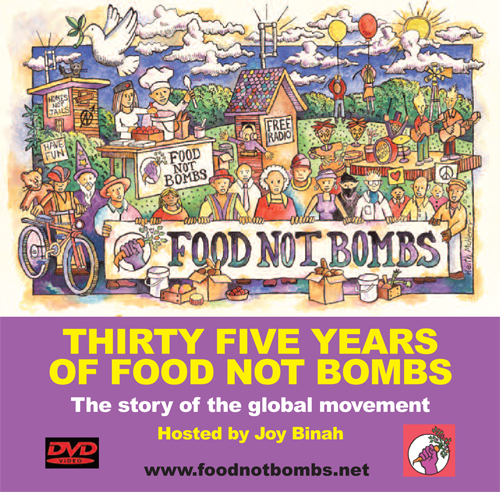 THIRTY FIVE YEARS OF FOOD NOT BOMBS
The story of Food Not Bombs and the thirty fifth anneversary celebraion in Santa Cruz, California.
Several hundred people participated in the 35th anniversary celebration of the Food Not Bombs movement. Joy Binah brought Kent Tegtmeier to document the celebration and interview Food Not Bombs cofounder Keith McHenry about the movement's 35 year history of sharing vegan and vegetarian meals and working for peace social justice. Joy asks Keith about the founding of the movement, the three principles of of Food Not Bombs, and how volunteers were inspired to start groups in over 1,000 cities around the world. She also asks about solutions to hunger, food recovery and the many issues supported by Food Not Bombs. The celebration not only provided hundreds of vegan meals but provided free haircuts, showers and live music.
This video in included with the Food Not Bombs Start-up kit.
Joy Binah - Host of Take Back Your Power & do it with Food!
Kent Tegtmeier - Media Center for Art, Education, Technology - Monterey County Office of Education

Watch the THIRTY FIVE YEARS OF FOOD NOT BOMBS program ON YOUTUBE

How Would You Like to Order?
---

Food Not Bombs
P.O. Box 424, Arroyo Seco, NM USA
505-776-3880
1-800-884-1136
menu@foodnotbombs.net
www.foodnotbombs.net
| Start a Food Not Bombs | Main Menu | Food Not Bombs Contacts | Donate A Dollar For Peace |