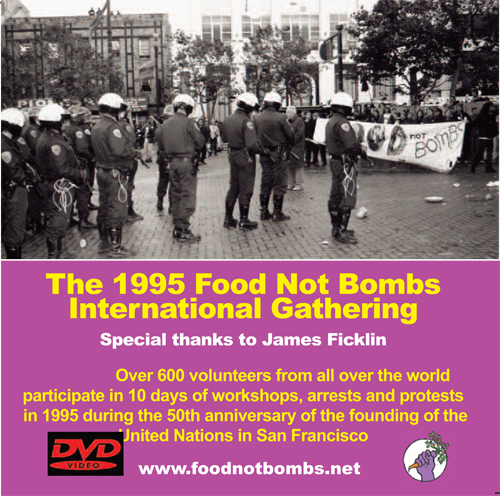 THE 1995 FOOD NOT BOMBS INTERNATIONAL GATHERING
The second international Food Not Bombs Gathering in San Francisco.
Food Not Bombs held the second international gathering in 1995 during the 50th anniversary celebration of the United Nations. Over 600 volunteers participated The gathering included a convergence center, low watt FM radio station and started the first Indymedia office. Workshops on gardening, consensus, banner painting took place between Homes Not Jails occupations, shanty town protests and torch light marches against the death penalty. The police made hundreds of arrested of Food Not Bombs volunteers as they shared free vegan meals in United Nations Plaza below a monument to the Universal Declaration of Human Rights. Hundreds more were arrested at nonviolent protests. Food Not Bombs changed forever as volunteers returned home dedicated building a better world.
By James Ficklin

Watch the 1995 FOOD NOT BOMBS GATHERING program ON LINE

How Would You Like to Order?
---

Food Not Bombs
P.O. Box 424, Arroyo Seco, NM USA
505-776-3880
1-800-884-1136
menu@foodnotbombs.net
www.foodnotbombs.net
| Start a Food Not Bombs | Main Menu | Food Not Bombs Contacts | Donate A Dollar For Peace |