False Allegations of Terrorism
"Since when did feeding the homeless become a terrorist activity?" asked ACLU Associate Legal Director Ann Beeson. "When the FBI and local law enforcement target groups like Food Not Bombs under the guise of fighting terrorism, many Americans who oppose government policies will be discouraged from speaking out and exercising their rights."
Documents Obtained by ACLU Expose FBI and Police Targeting of Political Groups (5/18/2005)
Food Not Bombs, Communist Party of Texas on"Terrorist Watch List"
In a guest lecture at the U.S. Law and National Security course at the University of Texas School of Law on Wednesday, March 8, 2006 FBI Supervisory Senior Resident Agent G. Charles Rasner listed Indymedia, Food Not Bombs, and the Communist Party of Texas as "Terrorist Watch" cause groups in Austin. Food Not Bombs, Communist Party of Texas on "Terrorist Watch List"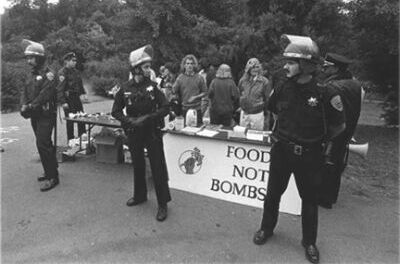 One sign that Food Not Bombs is an effective model of organizing for change is all the effort the United States Government has taken to disrupt our movement. Food Not Bombs volunteers can face other legal issues not directly related to sharing food. Even though our name is Food Not Bombs and we are dedicated to nonviolent direct action, sharing vegan and vegetarian food, the police, federal agencies and military intelligence units in the United States have accused our the movement and its volunteers of being "terrorists. " Some of our volunteers have been arrested on terrorism charges and on occasion our cooks have been tried, convicted and sentenced to years in prison. While it is hard to believe that the gentle nurturing tasks required of Food Not Bombs activists could be considered terrorist threats but this seems to be the case. Internal government memos and statements of military contractors indicate that they are worried that we may influence American tax payers to start supporting policies that redirect military spending towards education, healthcare and other domestic necessities, costing billions in weapons contracts. Providing food and logistical support at nonviolent protest could be another reason why U.S. officials believe we are "a terrorist threat." Food Not Bombs has fed logging protesters at Red Wood Summer in Northern, California and provided food to the thousands of people participating in Cindy Sheehan 's Camp Casey out side of George W. Bush 's summer home in Crawford, Texas. Our meals supported many peace, environmental and anti-globalization actions which certainly should be considered "acts of terrorism." Food Not Bombs activists in the United States can take some simple steps to protect themselves from being arrested and charged for planning or participating in acts of terrorism. The fact that we are not in any way considering acts of terrorists can cause our volunteers to make light of statements about arson, bombings and rock throwing but the FBI and Homeland Security have sent infiltrators to our meetings to talk about using violence. Months later these statements can appear as evidence that our volunteers were plotting acts of terrorism. When the cases get to court the prosecutors and media can point out that the accused Food Not Bombs activists didn 't object to the comments made by the informants "proving " that our volunteers were guilty. Food Not Bombs volunteers have been charged as terrorists after traveling with several infiltrators that were paid by the federal government to burn down research laboratories, lumber mills, model homes or auto dealerships. Sometime Federal prosecutors were able to get convictions be cause the Food Not Bombs activist were intimidated from expressing their dedication to nonviolence.

The first step is to make it clear that you are not going to participate in acts of violence. If people are joking about using violence it is wise to make several statements that you will not be doing what ever they suggest. Point out that Food Not Bombs is dedicated to nonviolence and that anyone considering any other strategies or methods should meet at another time and location. To help protect your friends you might also point out that it is very unlikely that such plans could be concealed from the government. Another step your chapter can take is to include statements about nonviolence on your literature. On occasion the media and prosecutors will claim that our literature didn 't make any mention that our protest would be nonviolent and use that as proof we are terrorists. If your chapter is planning an action you can protect yourself by including text about nonviolence on your publications. This can be difficult when working in coalition with groups that might not share our principles of nonviolence. It isn 't necessary to exclude reference to nonviolent direct action just because people are arguing in support of a diversity of tactics. Nonviolence resistance is just as valid as other methods.

Nonviolent direct action, noncooperation and nonviolent resistance can be very empowering. It takes courage to organize and participate in campaigns of nonviolent struggle. Many government officials have expressed frustration and were forced to capitulate when confronted by a dignified campaign of nonviolence. Nonviolence struggle can build trust between participants and the public. Campaigns of nonviolent direct action and civil disobedience can be so effective that governments and corporations will try anything to turn the movement int adopting the use of violence. That is one reason Food Not Bombs has been the focus of infiltration and why the authorities rely on "agent provocateur " to reduce the impact of nonviolence while sowing fear and alienation.

Don 't let people intimidate you into silence. People can make comments about "pacifists " being "wimps " or "pussies, " "that nonviolence never works or that you are not really committed to change if you aren 't willing to use rocks, bombs or guns. You might even hear that nonviolence is racist because people of color "have to take up arms " and that white first world people have the luxury to use nonviolence intimidating any one that might not be considering violence to be silence. Infiltrators or government agents may be talking to some of your volunteers outside Food Not Bombs at places like cafes, clubs or other public locations seeking to introduce the idea that armed resistance is the only solution. The state may also promote the idea that you are not serious about peace, animal rights, social justice or the environment if you are not willing to take violent action. Honest discussion of all tactics and methods including types of violence is fine but make it clear that Food Not Bombs is dedicated to nonviolence. At the same time it is not wise to make claims of infiltration or accuse some one of being an informant. It is best to not worry and stay focused on the work of Food Not Bombs. The government can use the fear of infiltration as a way of destroying trust in your community.

When Food Not Bombs started we never thought we could be arrested for sharing food and literature let alone accused of being connected with acts of terrorism. The first indication that the United States government claimed Food Not Bombs was "one of America 's most hardcore terrorist groups " was in late November of 1988 when a volunteer from the San Francisco chapter was told this information by her friend 's husband. He was a member of the National Guard and returned home from three days of classes at the now closed Presidio Military Base in San Francisco. Our volunteer had a Food Not Bombs button pinned to her coat. The logo caught his attention and he told her that he had just taken three days of classes about domestic terrorism and the military used Food Not Bombs in their "case study. " For several years into the early 1990 's Food Not Bombs activists continued to report conversations with uniformed military personnel at airports and other public locations after seeing our volunteers button on their jackets or bags. In each case they told our volunteers that they had been "studying " Food Not Bombs in counter terrorism classes. The protests to shut down the World Trade Organization meeting in Seattle on November of 1999 marked a change in FBI interest in Food Not Bombs. Food Not Bombs helped mobilize resistance to the meeting starting with it's 1997 "Unfree Trade Tour. " Efforts to paint Food Not Bombs as a violent terrorist group started in ernest. An Interpol agent participated on the tour collecting information at each of the 60 presentations. He organized one of our first email smear campaigns claiming he had not eaten in days and was almost killed by African Americans. He also tried to bankrupt Food Not Bombs by charging hundreds of dollars in calls to his office in Europe. Each evening after midnight an insurance company employee would came to measure the ceilings or United Parcel delivery would arrive at the home we were sleeping at. Then in Seattle the government used an old tactic of "agent provocateur " breaking windows and urging people to set fire to buildings. On June 16, 2000 Food Not Bombs volunteer Jeff "Free " Luers torched 3 Sport Utility Vehicles at Romania Chevrolet in Eugene, Oregon to alert the public to the dangers of our dependence on cars and their role in the climate change crisis. Jeff was sentenced to 23 years in 2001 but after appeals and public support he was finally freed on December 16, 2009. Jeff could have never known that the FBI was already doing what ever it could to silence Food Not Bombs by accusing its volunteers of terrorism. Then 19 year old Long Island Food Not Bombs volunteer Connor Cash was arrested by the U.S. Federal Bureau of Investigation (F.B.I.) on February 15, 2001 and indicted on the charge of arson conspiracy. The F.B.I. claimed his work with Food Not Bombs was evidence that he could be behind the arson of several model homes built to promote a development that would destroy an important wet land. Local environmentalists had been working to stop this development for many years. His family put up the title to their home to free him on $250,000 bail. Conner was finally acquitted on May 21, 2004. In September 2005 U.S. Attorney General John Ashcroft toured the United States and spoke to the national media about the danger posed by domestic terrorists pointing to the case of Food Not Bombs volunteer Josh Connole. That August, 27 year old Connole was arrested as as a suspect in the arson of 133 hummers and other SUV 's at a Chevrolet-Hummer dealership in West Covina, California. Four days later Caltech Physics Grad Student Billy Cottrell was arrested after emailing the media that Josh was not responsible. Connole became a suspect after a neighbor became suspicious based on his anti-war politics, and electric car, then called in a tip. The media reported that "Agents placed the commune under surveillance and developed a political profile of the residents, discovering the owner of the house and his father 'have posted statements on websites opposing the use of fossil fuels, ' one doc reads. " Another says the owner had ties to a local chapter of "Food Not Bombs, an anarcho-vegan food distribution group. " The FBI settled a civil rights lawsuit with Josh by paying him $100,000 and the city of West Covina paid him an additional $20,000 for false arrest. The Federal Bureau of Investigation and Homeland Security launched "Operation Backfire " targeting environmental and animal rights activists. Many Food Not Bombs volunteers organize base camp kitchens and provide logistical support for many important nonviolent direct actions against mining, logging operations, genetically modified crop experiments and the production of other bioengineering products. The need to take action to slow or stop these life threatening ecological disasters couldn 't be more urgent. When the authorities discovered through their surveillance of Earth First!, Food Not Bombs and other groups of educated activists they organized a network of infiltrators, informants from the Portland, Oregon Field Office of the FBI. A number of paid informants initiated and participated in crimes that were planned and supported by federal, state and local authorities, causing damage to property but fortunately never resulting in injury. These informants of "Operation Backfire " infiltrated a number of groups including local Food Not Bombs chapters, framing several Food Not Bombs activist on crimes planned and carried out on behalf of the U.S. government. On December 7, 2005 FBI agents arrested Chelsea Gerlach, Bill Rodgers, Kendall Tankersley, Kevin Tubbs, Daniel McGowan and Stanislas Meyerhoff. Most had been active with Food Not Bombs at the time they became associated with government infiltrators. Facing sentences as harsh as life in prison some of them pleaded guilty to lesser charges and in some cases agreed to testify against one another.

The FBI's plan worked. Fear and distrust spread through the community. Resistance to genetic experiments, devastating logging operations and other tragic assaults on the environmental slowed. Public attention was diverted from these critical environmental issues and anyone proposing a halt to the distraction was smeared as a "terrorist." Provocateurs denounced any effort to take nonviolent direct action as futile and misguided. Many honest dedicated activists became convinced that that the only solution was a campaign of clandestine sabotage. So federal authorities developed a campaign to encourage the clandestine sabotage of facilities such as the arsons of the Superior Lumber Company in Glendale, Oregon on January 2, 2001, and a dangerous genetic engineering experiment at Jefferson Poplar Farms, in Clatskanie, Oregon, on May 21, 2001 and a May 9, 1999 arson of the Childers Meat Company in Lane County, Oregon. As part of "Operation Backfire" several Boulder Food Not Bombs volunteers were questioned about the October 19, 1998 arson at the Vail Ski Facility in Vail, Colorado. Boulder Food Not Bombs was disrupted for months as a result of the investigation. Eugene Food Not Bombs also suffered from the paranoia after it became clear that they had also been infiltrated. Federal prosecutors admit that many of these crimes were instigated by FBI infiltrator Jacob Ferguson. At some point in the late 1990's the FBI started meeting with the young heroin addict Ferguson. He may have been promised freedom from prison or access to heroin for his efforts. These details are not yet clear. Federal officials testified that Ferguson admitted taking part in the firebombing of a U.S. Department of Agriculture plant research lab in Olympia, Washington, in 1998, the Superior Lumber Company fire in 2001 and the Jefferson Poplar Farms fire the same year. "Ferguson has admitted to actually setting the fires in these arsons according to an affidavit filed in connection with the issuance of search warrants in these cases, " the motion said. That affidavit also says that the informant, not named, went with an investigator to the tree farm in December 2004, and described how the firebombing was carried out. In 2005 he wore a hidden microphone and obtained tape recordings of conversations with defendants Meyerhoff, Kevin Tubbs of Eugene, Daniel McGowan of New York City, and Bill Rodgers of Prescott, Arizona. They had been Food Not Bombs volunteers during this period. Seattle Times staff reporters Hal Bernton and Craig Welch reported that "Two informants who claim to have participated in a May 2000 fire at an Oregon meat plant allege that Gerlach was part of that effort. One said Gerlach, equipped with a hand-held radio, served as a lookout as others placed five-gallon containers of fuel at the site, according to court papers. An informant may also have led to the arrest in Arizona of Sarah Harvey, also known as Kendall Tankersley, who is accused of participating in a 1998 fire at U.S. Forest Industries in Medford, Oregon. " They went on to say "The daughter of two attorneys, Harvey was homeless for a period in Eugene, and between 1997 and 1999 worked at Food Not Bombs, an agency that distributes food to the homeless, said Patricia Siering, a professor at Humboldt State University in California who met her years later. " One volunteer active with the Tucson and Prescott, Arizona chapters of Food Not Bombs, Bill Rogers died in jail several days after his arrest. His death was ruled a suicide. The FBI described him as the "ring leader " and tried to smear him with false charges of child pornography and claims he was responsible for many of the "Operation Backfire " arsons including the Vail fire. The government later admitted there were no pornographic photos. The government also tried to pit Bill against his friends by other measures including a claim by one of the infiltrators that he planned to break up with his girlfriend before committing a really big act. I worked with Bill for many years. A couple of months before his death I had the good fortune to spend several lovely days visiting with Bill as he staffed the Catalyst Infoshop in Prescott, Arizona. His dedication to nonviolence was clear and extended to his concern for the environment.

Food Not Bombs volunteers active in the animal rights movement have also been arrested under the Animal Industry Terrorism Act. In the case of the SHAC 7 and the group Stop Huntingdon Animal Cruelty who were protesting animal testing by Huntingdon Research Laboratories. British animal rights activists Greg Avery, Heather James, and Natasha Dellemagne started SHAC in November of 1999 after seeing a video of the abuse of laboratory animals at Europe 's animal testing lab Huntingdon Life Sciences. The PETA video showed employees at Huntingdon Research Laboratories beating beagles in the face and dissecting live monkeys. A global campaign to stop the abuse included a call for protests outside the offices and homes of corporate leaders profiting from the animal testing. Jacob Conroy, Darius Fullmer, Lauren Gazzola, Joshua Harper, Kevin Kjonaas, and Andy Stepanian published flyers, articles and designed websites about the details inside Huntingdon Research Laboratories and encouraged people to participate in protests to stop the cruelty. On March 2, 2006 these six animal rights activist, some of whom volunteered with Food Not Bombs were convicted under the U.S. Federal Animal Enterprise Protection Act even though the government never provided evidence that they had engaged in any acts of violence. One of the six, Long Island Food Not Bombs volunteer Andy Stepanian supported these efforts to end the barbaric abuse of animals by Huntingdon Research Laboratories by posting information on the web. Andy was sentenced to 3 years in prison and subjected to months in isolation in the Communications Management Unit or CMU of Marion in Marion, Illinois.

Anna Davies or Anna Davidson, also known as Grai Damiani survived a difficult divorce of her parents, left high school and passed her GED. She headed of to take some classes at her local local South Florida Community college. She decided to write a paper out the anti-globalization movement after reading about plans for a protest against the Free Trade Area of the America's protest in Miami, Florida in November of 2003. She started to attend some of the planning meetings to collect information for her paper. Her professor and one of her classmates a Florida Highway patrol officer were impressed by her paper and passed it on to the Miami Police. The police interviewed "Anna " and agreed to pay her about $60,000 to infiltrate the movement. She cooked with Food Not Bombs at the actions against the G-8 in Georgia to prepare her as a confidential informant at the Free Trade Area of the America 's protest. Police intended to make their repression against the Miami protests a model for the future. Using provocateurs like "Anna " would be part of the government 's strategy to silence opposition to the "liberalization of the economy. " An "Elle Magazine " article "The Believers " by Andrea Todd reported that "the Miami agents also wanted to book her for both the Democratic and Republican Conventions in Boston and New York, respectively, later that summer. " Several Food Not Bombs activists in Richmond, Virginia thought it was time to organize another gathering on the scale of the 1995 Food Not Bombs International Gathering. The Richmond volunteers made the proposal to the chapter that cooked out of A.B.C. No Rio in New York City. The New York activist supported the idea and Richmond and New York Food Not Bombs started working together in the summer of 2003, announcing a call for an "International Gathering " to be held in New York City during the National Convention. That same summer Boston Food Not Bombs began plans to feed the protesters at the Democratic National Convention. When the Denver Field Office of the F.B.I. approached Food Not Bombs volunteer Sarah Boswell The American Civil Liberties Union (ACLU) provided support. She was questioned The Denver office of the ACLU discovered a December 7, 2004 FBI Joint Terrorism Task Force (JTTF) document about the FBI's "routine " investigation into Food Not Bombs before the Republican National Convention. Several volunteers with the Denver chapter of Food Not Bombs were intending to travel to New York for the gathering but when the Food Not Bombs bus arrived in Denver to pick them up the Denver activist had changed their minds. The F.B.I. also tried to question Food Not Bombs volunteers in Lawrence, Kansas. The Lawrence volunteers also declined to head east on the Food Not Bombs bus. As the F.B.I. was questioning Food Not Bombs volunteers in the midwest the F.B.I. was also sending infiltrators to help cook with Richmond Food Not Bombs. The F.B.I. sent "confidential informants" to work with the Manhattan, New York chapter and before long the New York informants were complaining about the gathering and accusing the Richmond chapter of "forcing New York to host a gathering without even asking them." A month before the Republican National Convention New York City Food Not Bombs called off the gathering. Even though the F.B.I. had successfully disrupted the gathering Food Not Bombs activists came to New York any way and they organized a kitchen at Saint Marks Church in the Lower East Side. Food Not Bombs provided food and literature outside the church and rented a loft for activists to stay while participating in the protests. ABC TV aired a segment on its program 20/20 about "20 anarchists that plan to destroy the city" showing photos of the 20 people the authorities claimed to be worried about. That evening "Anna" helped out at Saint Marks Church and grumbled that Food Not Bombs needed to get more militant. On August 29th day tens of thousands marched through New York to express their opposition to the direction the Republicans had taken the United States. The affinity group that traveled on the Food Not Bombs bus marched before the Green Dragon. At one point someone lit the dragon on fire and plain clothes officer with the New York City police burned himself. He may have been the one that caused the fire. A few minutes later Yusuke "Josh" Banno was arrested on multiple felonies and held on $200,000 bail. Josh was marching with the group that had traveled on the Food Not Bombs bus at the time of his arrest. Here is one document provided to the New York Times by the American Civil Liberties Union "FBI Reports:"Food Not Bombs" Affinity Group Plan Protest with Possible Use of Slingshots.
The FBI reports that numerous individuals from Richmond,Virginia, associated with"Food Not Bombs"(FNB)are traveling to NYC via numerous vans. REDACTED Prominent members of the group, REDACT are already present in the area of the convention site an are actively scouting locations to protest.
Twenty(20)wrist mounted slingshots with paint ball type ammunition were reportedly discovered by an FBI source inside an office maintained by FNB.
According to the source, one member of the group, REDACTED Personal Private has stated in the past that he would "get a pig " while N.Y.C. "
The slingshots were copies of the newspaper from Berkeley, California that were on the Food Not Bombs table outside Saint Marks Church. Who the F.B. I. source was is not sure. "Anna " did visit the table. The identity of the "Prominent members of the group, " that were "REDACT " would be interesting to know. While it was not yet clear why the New York Food Not Bombs Gathering was disrupted interest was still high so several volunteers with the West Philadelphia chapter initiated plans to organize another international gathering. During a meeting in Washington D.C. at the National Conference of Organized Resistance it was decided that Food Not Bombs would organize another gathering in 2005 during a Biotech convention in in Philadelphia. Lauren Weiner, Eric McDavid and Zachary Jenson were involved in the planning. All went pretty well until the final plenary when "Anna " exploded yelling that "the women had not dealt with the problems caused by their fathers. " Others agreed and started yelling at one another until the meeting broke up. The proposed agenda items about the future of the movement and intergroup planning never happened. Not long after the 2005 gathering the FBI provided "Anna " with a car and a house in Dutch Flats, California complete with audio and video surveillance devices. "Anna " convinced the three organizers of the Philadelphia to head out west. She told them that her father would let them stay in his house in Dutch Flats, California. The F.B.I. provided the house and the car they drove west plus the story that they were gifts from "Anna 's " father. The F.B. I. also provided Anna with a book on how to build a bomb and some blasting caps. They suggested that she try to talk them into bombing a dam on the Sacramento River to free the fish. save the environment and prove their dedication to social change. Maybe "Anna " would agree to have a deeper relationship with Eric if he showed his dedication. She tried to talk Eric, Wren and Zachary into helping her build a bomb but they failed to see the logic. That January 2006 the F.B.I. listened into "Anna 's " attempts to get them to help her assemble the bomb but it was clear they weren't about to help. Dozens of agents and police waited outside the house believing the volunteers would take the bait but they weren 't cooperating. The agents rushed the house anyway claiming their resistance to participate in the plot was a threat to "Anna 's " safety. Food Not Bombs volunteers Eric McDavid, Lauren Weiner, and Zachary Jenson were arrested and charged with knowingly conspiring to use fire or explosives to damage property. The F.B.I. pitted the defendants against one another threatening heavy sentenced if they didn't cooperate. They used Wrens 's respect for Eric against her. Told her she would spend the rest of her life in prison if she didn 't agree to testify that Eric was the ring leader. Even though the jury could see that the F.B. I. was really responsible for instigating the plot they felt forced into convicting Eric because of the government 's agreement with Wren and Zachary. Federal prosecutors told they jury that Eric was popular and his conviction would send a message to other young activists. Eric was convicted and sentenced to 19 years and eight months in prison because of a plea bargain agreement even though the jury stated that they believed Eric had no intention of participating in the F.B.I. 's plot to bomb a dam.
The F.B.I. and local police held press conferences eight months before the 2008 Republican and Democratic National Conventions. They told the media that Food Not Bombs had planned activities before the 2004 conventions and were going to be involved in the 2008 protests. The Rocky Mountain News and Minneapolis Star Tribune reported that the police knew that Food Not Bombs was planning to collect and use feces against the police and delegates at the conventions. What Food Not Bombs didn't know was that the F.B.I. started infiltration the Denver and Minneapolis chapters several months before the press conferences. Fifty one year old Ramsey County Sheriff 's Department Narcotics Officer Marilyn Hedstrom "Norma Jean Johnson " started to volunteer with the local Minneapolis chapter a year before the National Convention. She seemed to be very interested in dumpster diving for the group. Her "niece " Rachel Nieting, or "Amanda Clara " or on occasions " Amanda Amey " came along. She was working for Ramsey County Department of Corrections. Chris Dugger also started to volunteer with Minneapolis Food Not Bombs. He was a Ramsey County Confidential Reliable Informant. A fourth infiltrator was Andrew Darst or "Andy, " "Panda, "or "Pandy " and had the online names of Warchyld and Killswitch. Andy was a Federal Confidential Reliable Informant. These informants participated in Minneapolis Food Not Bombs meetings to organize the RNC welcoming Committee. Minneapolis Food Not Bombs planned to provide food to the protesters outside the convention center and help organize housing for people coming from other communities. The infiltrators suggested things like fire bombing the delegates buses. The National Republican Party provide $50 million to cover expenses. Minneapolis Food Not Bombs chapter started organizing a year before the convention. The infiltrators joined them at their meetings where they made plans to provide meals, housing and city maps to the people coming to protest the policies of the Republican Party. Several infiltrators "joked " about fire bombing the Republican delegates buses and other acts of violence during the RNC Welcoming Committee meetings. The request for warrants on the Food Not Bombs cook house used the infiltrator's "jokes " about the fire bombings and other acts of violence as evidence Food Not Bombs was an threat. On August 29, 2008 Joanne M. Smith, Judge of Ramsey County District Court signed the warrants for raids on the Food Not Bombs cook houses. Hundreds of swat police, F.B. I. Homeland Security and Ramsey County Sheriff Department officers raided the three Food Not Bombs cook houses at 8:00 in the morning of August 30, 2008 the day before the convention was scheduled to start. Eight Food Not Bombs cooks, Eryn Trimmer, Monica Bicking, Luce Guillen Givins, Max Specktor, Nathanael Secor, Erik Oseland, Robert Czernik and Garrett Fitzgerald were charged under the Patriot Act as terrorists. Eryn Trimmer was introduced to Food Not Bombs when he was just 13 years old living with Food Not Bombs co-founder C.T. Lawrence Butler in Maryland for most of his teenage years.
The infiltration required to silence protest at the Republican National Convention were not limited to the Minneapolis area. Long time Food Not Bombs activist Brendon Darby was also working for the F.B.I. He was busy trying to get two new activists to help him make fire bombs that they could use in Minneapolis. Brendon Darby was a Food Not Bombs contact person at Common Grounds in New Orleans after Katrina. In Austin, Texas he spent months trying to encouraged 22 year old David McKay and Bradley Crowder who was 23 to take make Molotov cocktails to the RNC to use against the cops. The three joined other Austin activists in a van trip to the convention. The cops pulled the van over. McKay and Crowder were arrested for disorderly conduct. McKay was released later that day but Bradley Crowder remained in jail. Darby made out to be very upset at the "illegal arrest " of his "friends " in the van. Darby egged McKay on about fire bombing the police. MaKay didn't know Darby was recording their conversation The partial transcript in the affidavit, Brendon Darby asked David McKay, "What if there's a cop sleeping in the car?" "He 'll wake up, "replied McKay. Bottles were also found at the house where they were staying. The F.B. I. claimed they were going to be used as Molotov cocktails. In 2010 David McKay was facing 30 years in prison.
The authorities would not take such drastic actions and spend so much money if they did not believe Food Not Bombs was effective. Corporate concern that the public might support policies that redirect money from the building of bombs towards food, healthcare, education and other programs that would make America really secure has inspired an extensive campaign of police repression against Food Not Bombs in the United States. The authorities are also worried about the ability of Food Not Bombs to provide food and logistical support to protests against the policies of the government and corporations. One afternoon protests can turn into months or even year long sustained action. But even with all of this effort the authorities have not been able discourage Food Not Bombs from it 's work to challenge the political and economic system. Food Not Bombs activists can take some very simple actions to make sure they do not fall prey to the U.S. governments efforts to disrupt our work. First stay focused on the fundamentals of Food Not Bombs. Don't feel guilty about not taking violent action. The crisis we are facing are dire and deserving of the most extreme acts to save our future so it is rational to consider sabotage, arson or other acts considered violent by the corporate state but these tactics are not able to achieve the success needed under the current conditions. Nothing can be a secret in the United States. Over forty billion dollars is spent each year to spy on the enemies of corporate America. A campaign of violence would add to the disempowerment in our community and scare the public into greater support of the authorities. If you feel you must investigate taking violent action consider the entire strategy from how these actions would motive change. Are you really ready to live fearing capture? Will your actions really inspire the public to rise up and save the earth? How will you feel if you kill someone or one of your friends is killed. Can you really see yourself coordinating hundreds of people to move from bombings to the shooting of the police or politicians and will this move society towards addressing the crisis? How will you feel spending the rest of your life in prison seeing the stress this is putting on your family and friends. While you could spend decades in prison for taking nonviolent direct action you are likely to feel more empowered and have wide support on the outside. On the other hand mass nonviolent direct action based on a thoughtful strategy is more likely to be more effective. Agent provocateurs can encourage drastic measures knowing we are knowledgeable about the threats to the environment and economy. If pressured you can remind your friends that many of the over 20 Food Not Bombs volunteers in prison were framed for similar acts and that we are dedicated to nonviolent direct action. Suggest your community study the history of nonviolent direct action in books by people like Gene Sharp, Martin Luther King Jr, and others who witnessed first hand the power of noncooperation and nonviolence. Another thing to be concerned about is jokes about using violence. These jokes became the evidence used for the arrests of the RNC 8 and many other Food Not Bombs volunteers. If people joke about armed revolution, bombings, rock throwing or other acts of violence at your meetings our while cooking make it clear that Food Not Bombs is dedicated to nonviolent direct action and ask them to stop. You might remind your chapter that conversations and jokes about using violence have resulted in Food Not Bombs volunteers being framed and sentenced to long prison sentences. The volunteers that are joking about violence or making statements about the need to use violence are not necessarily infiltrators or police agents so don 't make any accusations. They may have been influenced by someone they met outside of Food Not Bombs or read some of the many books promoting the belief that nonviolent direct action doesn't work.
It is best to not worry and stay focused on the work of Food Not Bombs. The government can use the fear of infiltration as a way of destroying trust in your community. Again simply remind your chapter that we are dedicated to nonviolent direct action and that we don 't joke or talk about taking violent action while volunteering with Food Not Bombs.
July 13, 2010
Washington D.C.

---
| | |
| --- | --- |
| Food Not Bombs on the FBI's Terrorist Watch List. | Food Not Bombs volunteers taken off flight from Europe and investigated by Homeland Security. |
| FBI letter about Keith McHenry and Food Not Bombs on the Terrorist Watch List | U.S. Justice Department Letter supporting the San Francisco Police Deprtment's use of violence against Food Not Bombs volunteers |
| 1988 wiretap memo of Keith McHenry's home phone | ABCs KAAL TV News in Minnesota claims police infiltrate the RNC welcoming committee |
| Amnesty International Letter about arrest and violence against Food Not Bombs volunteers | United Nations Letter announcing an investigation into U.S. human rights violations against Food Not Bombs |
| < b> FBI's Joint Terrorism Task Force targets peaceful Food Not Bombs activists for harassment, political surveillance | FBI memo about Colorado Food Not Bombs |
| Pentagon TALON documents including the anti-torture protest in Arizona | Bill Rodgers indictment |
| Sarah Harvey's indictment | Government agencies Respond to ACLU requests for documents |
| Policing Protest: The NYPD's Republican National Convention Documents. | NYC City Police Spied Broadly Before GOP Convention by Jim Dwyer. |
| August 25, 2004 New York Police Memo indication that the FBI infiltrated the Richmond, Virginia chapter of Food Not Bombs. | FBIJTTF memo on investigation of Denver Food Not Bombs before the national conventions. |
| W Pushes Envelope on US Spying New postal law lets Bush peek through your mail by James Gordon Meek | FBI Settles With Environmentalist - LA Times |
| F.B.I. Watched Activist Groups, New Files Show | Protesters Subjected To Pretext Interviews, The Washington Post |
| Food Not Bombs, Communist Party of Texas on Terrorist Watch List | The Warrantless Wiretapping Program by Russ Feingold |
| Homeland Security question | Food Not Bombs volunteer Sarah Harvey arrested-Tucson Citizen |
| Bad Targeting Monday, January 30, 2006 washingtonpost.com | KBR awarded $385M Homeland Security contract for U.S. detention centers |
| The Seattle Times reports on December 19, 2005 | Food Not Bombs volunteer Sarah Harvey arrested-Tucson Citizen |
| Adversaries go inside ADL's spying operation | ADL Spy Probe |
| Who Watches the Watchdogs? | Organizations found in ADL files |
| ACLU Uncovers FBI Memos -Yes Magazine | A Clockwork Orange - Orange County Weekly |
| MSNBC and other reports on domestic spying by the Pentagon | Rolling Stone Looks at Tree-Huggers Who Didn't Just Play With Fire, Washington Post August 1, 2006 |
| Catalyst Infoshop co-founded by Bill Rogers | The disappearance of San Francisco Food Not Bombs volunteer Hugh Mejia |
| The Wackenhut Corporation | CIA |
| The Safety Network | Weed and Seed |
| The Citizen Corps TIPPS program | Community Oriented Policing Services |
| The 1970 congressional investigations into COINTELPRO | The CIA |
---

Food Not Bombs
P.O. Box 424, Arroyo Seco, NM 87514 USA
575-770-3377
1-800-884-1136
menu@foodnotbombs.net
www.foodnotbombs.net
| Start a Food Not Bombs | Main Menu | Food Not Bombs Contacts | Donate A Dollar For Peace |