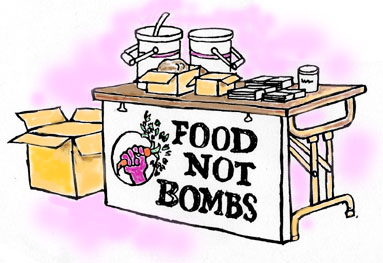 A FOOD NOT BOMBS GLOBAL COORDINATION OFFICE




Updated May 1, 2013,



THE HISTORY OF THIS OFFICE
The Food Not Bombs global coordnination office is responsible for helping start new Food Not Bombs groups, supporting existing groups and providing a way for the public to connect with the Food Not Bombs movement. This project is not the headquarters of Food Not Bombs and has no power. The only function of the office is to support the global network of Food Not Bombs groups. The office has been operating since 1992 helping start many of the hundreds of Food Not Bombs groups active today. During the closing plenary at the 1995 International Food Not Bombs Gathering in San Francisco we came to consensus that this office should host the website www.foodnotbombs.net and maintain the Hunger Hotline, the toll free number 1-800-884-1136. It distributes books and literature, maintains a website, organizes presentations, videos, tours, and answers the the toll free phone. We organized four tours and presentations to help start and support local Food Not Bombs chapters. The office was responsible for the writing and distribution of the book " Food Not Bombs, How to Feed the Hungry and Build Community." The newest book is HUNGRY FOR PEACE - How you can help end poverty and war with Food Not Bombs. The office collective is currently helping organize the translation and publishing of Hungry For Peace into Spanish, Italian, Japanese and Russian. The project has helped organize hundreds of interviews for radio, TV and print media in many languages providing photo, video and other support. Today the office is located in Taos, New Mexico in the United States where the volunteers are planning to start an educational center and teach subjects like permaculture gardening, consensus, nonviolent direct action, the creation of puppet shows and other skills for organizing and changing society.

RELIEF EFFORTS
Food Not Bombs is busy collecting and delivering food and supplies to help the survivors of the global economic crisis and natural disasters. The collective volunteering with this office organized the national campaign to provide food and supplies to the survivors of typhoons in Asia as well as Katrina and Sandy in North America. We also supported relief efforts in Asia and are prepared to help where ever we are needed. Today our focus is on supporting the millions of people displaced by the failing economy. THe volunteers are helping people and local Food Not Bombs chapters organize kitchens at several hundred occupations.

FOOD NOT BOMBS BEHIND BARS
We get many letters from prisoners. Our collective replys to their questions and send them information inviting them to start a Food Not Bombs group behind bars. We also tell them how their families can get food and support from us. We can not forget the over two million Americans living behind bars. They need our support.

TOLL FREE NUMBER
We answer the Food Not Bombs HUNGER HOTLINE, a toll free 800 number assisting callers locate their local chapters, tips on how to collect and cook food, how to start a local chapter, what to do if the police try to stop your group from sharing food and other information about Food Not Bombs. We receive form 5 to 20 calls a day from callers all over North America. Questions range from people looking for food, information on how to volunteer with their local group to reporters wanting to interview a Food Not Bombs volunteer.

WEBSITE
We maintain the www.foodnotbombs.net website, updating the contact list and providing links to resources and actions. Our website publishes articles about local Food Not Bombs groups and monthly reports on what each group is doing. We have links to Food Not Bombs flyers to reprint, The Food Not Bombs books in a number of languages, information on how to start a group, vegetarian recipes, the Good Samaritan Law, information on hunger, the environment, human rights, animal rights, the military and wars, how to get out of the military, how to make decisions by consensus, alternative news and a wide variety of information helpful to Food Not Bombs. We also respond to the email requests for information, interviews and local Food Not Bombs contacts.

A FOOD NOT BOMBS MENU - NEWS FROM GROUPS TO SHARE WITH MOVEMENT
The collective also plans to produce an electronic Menu. Every Food Not Bombs group can send in flyers, magazine articals, court documents, police reports, music covers and any other things you think other Food Not Bombs volunteers might be interested in seeing. Local groups can print a copy for their group and show it to everyone.

MEDIA RELATIONS
We are interviewed by the media about the Food Not Bombs movement and we connect the media with local groups. We maintain a date base of media contacts and send press releases to this data base. We write articles about Food Not Bombs for many periodicals and provide photos, video and background to student journalists, independant and commercial media and filmmakers.

PRESENTATIONS, GATHERINGS AND TOURS
We help organize and participate on tours and movement wide actions. We just finished the Smash Hunger Squash Poverty Tour speaking about the history, principles and current actions of Food Not Bombs around the globe. The tour is also visiting occupations and helping collect, cook and share meals at many occupations. We give talks and show videos about Food Not Bombs at schools and community centers. We assist with the creation of radio and video documentaries. A Food Not Bombs activists would be happy to speak to your school or organization. Call us at 575-770-3377 to book a speaker.

We supported the 1995, 1996, 2004 and 2012 World Gatherings and provide support for regional gatherings. some members of the collective tour with puppets on The Autonomous Playhouse with Dan The Pandarchist

FILLING BOOK, T-SHIRT, BUTTON AND OTHER MATERIAL ORDERS
We fill book, button, patch and sticker orders and respond to requests for information about Food Not Bombs. Our office supplies start up kits, books, buttons, patches and stickers for local Food Not Bombs groups to sell for donation.

WRITING, ILLUSTRATING AND EDITING FOOD NOT BOMBS BOOKS AND PUBLICATIONS
We write and illustrate flyers and books about Food Not Bombs and related issues. We provide photos and illustrations for Food Not Bombs publications produced by local groups. We coordinate the translation of Food Not Bombs publications and provide photos and illustrations. We get camera ready copies of the logo for groups to use on signs and for other publications. The newest book is HUNGRY FOR PEACE - How you can help end poverty and war with Food Not Bombs The office is currently helping the publisher See Sharp Press with promotions. They are also organizing the translation and publication of the book into Russian, Italian, Spanish and Japanese.

STAFF LITERATURE TABLES
The office sets up and staffs literature tables at conferences, concerts, protests and on street corners as a way of promoting the movement. We attend conferences and protests all over the world in an effort to reach as many people as possible about Food Not Bombs. We set up our table at each stop of out tour and for example we have set up information tables at National Conventions in New York, Denver, and Tampa, the WTO protests at Cancun, the European Social Forum in Paris and each year at the National Animal Rights Conference.

MAILING LISTS, SOCIAL MEDIA AND EMAIL ADDRESS BOOK
The office has over 8,000 email addresses of Food Not Bombs supporters. The volunteers also help faciliate some of the global social media sites on twitter, facebook, and other venues.

THE FOOD NOT BOMBS FREE SKOOL
The Food Not Bombs Free Skool sits on an acre of pasture in Taos, New Mexico in the United States of America is free to everyone including all Food Not Bombs volunteers and their friends. Everyone is invited to apply for two or four weeks of workshops during the summer to help them develope and improve their organizing skills. The Food Not Bombs Free Skool offers four core workshops, The Consensus Process, Food Not Lawns Gardening, Cooking and Organizing, and the Fundamentals of Nonviolent Social Change. Volunteers also offer workshops in puppet making and production, creative writing, bee keeping, natural construction, herbal healing, weaving, yoga and many other wonderful skills. The collective encorages participants to not only take the core workshops but asks that those attending consider sharing thier own skills as long as they do not conflict with the polcies of the schools non-profit status. The Food Not Bombs Free Skool provides time to hike in the mountians, swim in the Rio Grande and take part in the rich culture of Taos.

SUPPORT MOVEMENT WIDE COMMUNICATIONS
Our collective provides help with inter-chapter communication. The volunteers participating in the 2010 Monterrey, Mexico Food Not Bombs Gathering made these three proposals for all Food Not Bombs groups to consider.
MONTERREY PROPOSALS FOR ALL FOOD NOT BOMBS GROUPS TO REVIEW

FOOD NOT BOMBS MENU BOARD
Leslie Swanson - co-founder of Food Not Bombs
Bobby Castillo - Native American Activist
Alex S. Vitale - Associate Professor Department of Sociology Brooklyn College and former Food Not Bombs volunteer
Emmanuel Rodriguez - Food Not Bombs in Monterrey Mexico


FOOD NOT BOMBS VOLUNTEER COLLECTIVE

Liz Moon
Keith McHenry
David Lewis

FINANCIAL DETAILS

PLEASE GIVE TODAY, Thanks so much...
---

FOOD NOT BOMBS
P.O. Box 424, Arroyo Seco, NM 87514 USA
575-770-3377
1-800-884-1136
menu@foodnotbombs.net

[ MAIN MENU | Flyers You Can Reprint | Food Not Bombs Handbook ]
[ How to Start a Food Not Bombs | Events | | Home | All Contacts