Twenty eight years of cooking for peace.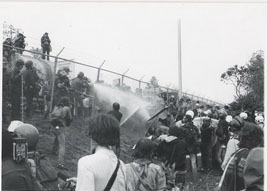 The Coalition For Direct Action tries to occupy Seabrook Nuclear Power Station.



The May 24, 1980 Occupation Attempt of Seabrook Nuclear Power Station in New Hampshire marks the birth of Food Not Bombs. Food Not Bombs cofounder Brian Feigenbaum was arrested at the May 24th direct action to stop the nuclear station. He and his friends held bake sales to raise money for his defense and thus Food Not Bombs began.

This year Taos Food Not Bombs will be celebrating the 28 year history of Food Not Bombs with free vegn meals and a not so vegan birthday cake at the Toas Plaza from 2 to 4 on Saturday, May 24th. In the past many groups have organized a free out door concert where the local chapter provides free meals to everyone that comes. Food Not Bombs calls their birthday concerts Soupstock. The largest such celebration was on the 20th anniversary when Soupstock drew over 20,000 people to Dolores Park in San Francisco.

Reflecting on our nearly three decades of organizing it is really amazing that an all volunteer effort could grow from eight young anti-nuclear activists in Cambridge, Massachusetts to a global movement active in over 1,000 communities. It is fitting that one of our news chapters would start in Cambridge, England almost 28 years to the day of the action that inspired the movement.

The accomplishments are truly inspiring. Food Not Bombs worked for two years to help promote the June 12, 1982 March for Nuclear Disarmament in Central Park, New York where our Cambridge chapter provided meals to some of the over one million people who participated. On August 15, 1988 nine volunteers of the second Food Not Bombs group where arrested in at the entrance to Golden Gate Park in San Francisco marking the first arrest for sharing free food. The city of San Francisco made over 1,000 arrests for feeding the hungry inspiring the movement we have today. Food Not Bombs volunteers were declared "Prisoners of Conscience" by Amnesty International.

Each time the San Francisco police made more arrests people would contact Food Not Bombs to see how they could also start a new group and get arrested feeding the hungry. Food Not Bombs had its first gathering in October of 1992 in San Francisco and its second gathering in 1995 during the 50th anniversary Celebration of the founding of the United Nations. Food Not Bombs volunteers helped start the current underground radio movement with San Francisco Liberation Radio and Free Radio Berkeley in 1993 when the media refused to report on the police violence against Food Not Bombs. In preparation for the 1995 gathering the idea of Indymedia was born. San Francisco Food Not Bombs also called together the activist community to form the October 22nd No Police Brutality Day Actions after nearly 200 people protesting against police violence were arrested. Food Not Bombs groups helped organize and provided food at huge protests against Desert Storm. The Food Not Bombs banner lead the blockage of the Bay Bridge in San Francisco as volunteers provide meals to hundreds blockading the federal building.

Food Not Bombs organized several tours including the Rent is Theft Tour where a tofu spread cooking demonstration was broadcast on a 5 watt FM radio transmitter and the audience was invited to open an abandon house and enjoy tofu spread sandwiches the grand finally. Food Not Bombs chapters all over the United States started illegal FM radio stations in several hundred cities. The UnFree Trade Tour of 1997 visited 60 cities in the U.S. and Canada informing the public about the human cost of free trade agreements and the dangers of the World Trade Organization. Participants attending planned to organize an effort to stop the WTO if it ever came to North America. In November of 1999 Food Not Bombs volunteers from all over North America came to Seattle and helped set up the convergence center and provided meals to thousands of anti-globalization protesters. Food Not Bombs became a regular participant in many anti-globalization actions from then on. One volunteer was shot and arrested in Sweden at a G-8 meeting. Volunteers were injured at the Free Trade Agreement of the Americas protest in Miami. Volunteers also provided meals at the last three Democratic and Republican National Conventions and many Earth First! and first nation blockades. Food Not Bombs volunteers provided the meals to the protesters at Cindy Sheehan's Camp Casey in Crawford, Texas. Food Not Bombs has also provided free meals at many major disasters. New York and New Jersey volunteers fed the 9/11 rescue workers, provided the food after the Loma Prieta Earthquake in San Francisco and the movement organized the food relief effort for the survivors of Katrina.

Tel Aviv Food Not Bombs has been active in working against the occupation. They provided meals at peace camps on the West Bank and joined Anarchist Against the Wall in cutting through the gates between Israel and Palestine. Slovakian chapters started animal rescue shelters in 24 communities.

Food Not Bombs fed the protesters at the Orange Revolution in Kiev, Ukraine and a 600 day farmers vigil in Sarajevo. Australian chapters work with the aboriginal people, at Baxter Refugee center, provided meals at actions against U.S. Australian military training and at efforts to stop gold mining.

The last Global Food Not Bombs Gathering was held in the Ukraine in August 2007. That location was chosen because it is center to the growing Food Not Bombs movement in Europe. Several Food Not Bombs volunteers have been stabbed by Neo Nazis in Russia. Two volunteers have died in these attacks yet there are over 50 chapters in Russia and the movement is popular across every country of eastern Europe.

Many of our volunteers are honored by local organizations for their work with Food Not Bombs. The Copenhagen chapter was awarded the Danish Peace Award and the Kuala Lumpur Chapter was just recognized with the Malaysian Human Rights Award.

Our volunteers in Orlando and West Palm Beach Florida , Victoria, British Columbia and Kitchener, Ontario have been facing arrest by local governments. The Kitchener chapter recently negotiated with the business community to continue its work outside City Hall.

Federal agencies in the United States have placed Food Not Bombs on a number of Terrorist lists. The Pentagon has included the group on its TALON list. The FBI claims Food Not Bombs is a terrorist group and Homeland Security has Food Not Bombs and some of its founders on their terrorist watch list. Food Not Bombs volunteers have been taken off of international flights, questioned and the contents of their wallets have been input into computer data bases. Food Not Bombs volunteers have been arrested on terrorism charges since the Oklahoma Bombing and a number of those arrested have won payment for their mistreatment by the U.S. Government. One volunteer took his own life shortly after his arrest in Arizona. The government has yet to tie Food Not Bombs to any crime of violence yet maintains our work is a threat.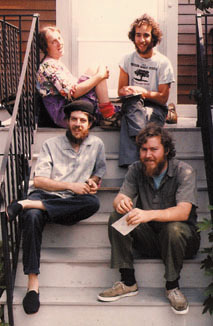 Food Not Bombs co-founders Susan Eaton, Brian Feigenbaum, C.T. Lawrence Butler and Keith McHenry sitting outside their home in Cambridge, Massachusetts in the summer of 1981. Mira Brown, Jessie Constable, Amy Rothstien and Jo Swanson are not pictured.



As Food Not Bombs starts its 29th year the movement is growing more than ever. Along with the creation of the Cambridge, England group volunteers are busy organizing new chapters all over the world. Other new chapters include Alice Springs, Australia, Beijing, China, Bangkok, Thailand and Cairo, Egypt. In response to the growing economic, political and environmental crisis Food Not Bombs groups are starting to grow food with "Food Not Lawns." Really Really Free Markets are becoming popular and many other exciting projects are being developed by the Food Not Bombs Movement.

Taos Food Not Bombs is proposing that we organize a World Gathering the weekend before the 2009 World Peace Conference. The Mayor asked the Taos Peace House to organize a conference to develop a strategy for building a united effort towards ending war, poverty and exploitation. The volunteers at the Taos Peace House met May 1st and agreed to help organize the World Peace Conference. Taos is one of the oldest towns in North America with tow 900 year old pueblos. For centuries Taos has worked for peace and sustainability. Today many innovative experiments in alternative living are under way in Taos making it a perfect location to celebrate the 29th anniversary of Food Not Bombs and assist in creating a unified effort for peace, social justice and a sustainable future. Taos Food Not Bombs is also interested in proposing that we meet during the World Gathering to consider plans for our 30th anniversary.

It is wonderful to see that this all volunteer movement is having such an impact all over the world. This movement is united around the principles of nonviolence, the use of a horizontal decision making structure of Formal Consensus organized around the idea of independent autonomous groups without leaders, that collects unsold food to provide vegan and vegetarian meals free to anyone without restriction. This simple model is providing a hopeful example during these times of cataclysmic catastrophe. Tell everyone you know that there is something positive they can do and invite them to participate in Food Not Bombs. Food is a right, not a privilege.



You are invited to Visit our Main Menu




---

Food Not Bombs
P.O. Box 424, Arroyo Seco, NM 87514 USA
575-776-3880
1-800-884-1136
menu@foodnotbombs.net
www.foodnotbombs.net
| Start a Food Not Bombs | Main Menu | Food Not Bombs Contacts | Donate A Dollar For Peace |